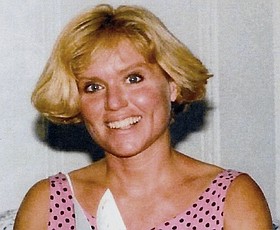 Michele Kathaleen Gibbs-Fleming
Joshua Tree, Calif.
December 9, 1959 - January 29, 2017
Michele Kathaleen Gibbs-Fleming, the beloved daughter of Rev. Don and Ruth Gibbs, was tragically hit and killed by an oncoming truck while she was out walking in the early evening of Jan. 29, 2017. Michele was living in Joshua Tree, Calif., for the past four years. Her life had taken a dip in the road and she had been making preparations to move to Chicago to be near her sons and their families.
Michele was born Dec. 9, 1959, in Eugene, Ore. Michele was the fourth child to be born to the Gibbs and the third daughter. The birth order was Don Ralph, Teresa Lynn, Christine Louise, and then Michele, who became the blond, dimpled delight of all who knew her. She was full of giggles and pure delight to this family of six. At the time, her father was attending the University of Oregon before taking a pastorate in Eastern Washington. Her older brother affectionately nicknamed her MeMe, which has stuck throughout her life. She always added to the delight of her family and church families. At Michele's birth, the family inherited a pug dog named "Mr. Beans." He completed the family at that time to create an atmosphere of pure "fairytale" quality.
At the age of 8, Michele had the lead role in The Sound of Music, as Gretel. She brought the house down with her sheer magnetic power. At 10, her desire was for a baby brother on her birthday. Her belief in such a miracle did bring a baby brother to their home. A baby brother did share her 10th birthday with her, Cean Michael, celebrating at Farrell's Ice Cream Parlor. Two more children soon graced this home, Danielle Marie and Jason Taylor. Life was full of joy.
She later took part in many school plays and activities, one being a "yell leader" for Beaverton Middle School. She played the flute for a time, and always had friends as she flashed her winning smile. Water skiing was the love of her life, spending many summer days on the water honing her skill.
The fairytale was interrupted when Michele's oldest sister, Teresa, was stricken with leukemia and lost the battle in 1974. Michele was 12 at the time. The family was left bereft.
When Michele was 16, she went to work for Coco's, bought her own car, and started her education at Portland Community College. She met her husband while working at Coco's. They were married when Michele was 19. A daughter, Dominique Michele, and twin boys, Cameron Russell and Lucas Brian, soon graced their home, all within one year. She and her Marine husband, Russ Fleming, spent much time traveling in the Marine Corp. When the marriage ended, Michele continued her education in psychology and health science at Portland State University, receiving a Bachelor's degree, and worked several jobs while being a single mom. She soon became a manager for Nautilus Health Club for approximately 15 years. She was an avid runner, running the "Hood to Coast," and was a health nut in her earlier days. She always had a tender heart for God from early childhood on.
Michele has seven grandchildren, Julian, Riley Christine, and Jeremiah, Thaeden, Olivia, Ethan and Collin. She is survived by her parents, Don and Ruth Gibbs, sisters Christine and Danielle, brothers Ralph, Cean, and Jason, a foster brother, Raju Philip, beloved sisters-in-law, brother-in-law, and many nieces and nephews.
A committal service will be at 1 p.m. on Saturday, April 15 at Upper Valley Cemetery, 6917 Allen Road, Hood River, Ore., with Rev. Mark Willems, Parkdale Presbyterian Church, officiating. May we express our sincere gratitude to so many people who have reached out with such tenderness at our loss … to the Parkdale Presbyterian Church, where we spent 12 wonderful years, and to the Anderson's Tribute Center, who shows such tender care in a time such as this.
Memorial gifts made out to Parkdale Presbyterian Church will be most gratefully received.
"For God so loved the world that He gave His only begotten son that whosoever believeth in Him should not perish but have everlasting life" (John 3:16).
Visit www. AndersonsTributeCenter.com to leave a note of condolence for the family.
Services for Michele Kathaleen Gibbs-Fleming
April 15, 2017

Burial: 1 p.m.
Upper Valley Cemetery, 6917 Allen Road, Hood River, Ore.