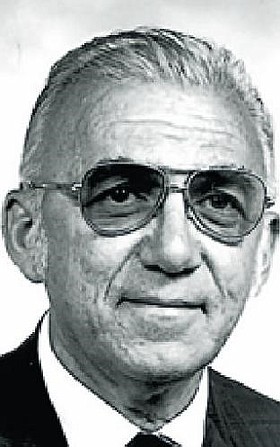 Philip G. Brown
November 16, 1919 - April 8, 2017
Philip G. Brown, 97, passed away peacefully on Saturday, April 8, 2017.
Born in Hood River, Ore., on Nov. 16, 1919, Philip was the son of the late Gordon and Margaret (Littlehales) Brown of 902 Cascade Ave., Hood River. Known for his quick wit and sense of humor, Phil attended St. Mark's Episcopal Church in Hood River and graduated from Hood River High School. He attended Oregon State College for three years prior to World War II. He enlisted in the Army and was assigned to the Army Air Corps in 1941, serving in WWII as a navigator and later as a pilot in the 10th Air Force. He flew bombers over "The Hump" in the China/Burma Theater (CBI) in support of Chinese troops, and ultimately achieved the rank of captain. While stationed during the war at Suffolk Air Force Base, N.Y., he met Barbara May Halsey, whom he married after the war.
Phil completed his education at Oregon State College and earned a BS in electrical engineering, whereupon he joined General Electric Co. in Schenectady, N.Y., where he and Barbara settled to raise their family. At retirement, Phil held the position of Senior Application Engineer at General Electric. He is a Life Fellow of IEEE.
Phil was a lifelong learner, enjoying aviation, sailing, skiing, hiking and mountain climbing, astronomy and rebuilding antique clocks. He built several sailboats, a telescope, and was a ham radio operator. As a member of the Hood River Crag Rats, he assisted in mountain rescues on Mount Hood.
Philip was predeceased by his parents, wife Barbara May (Halsey) Brown, and his sister Virginia (Brown) McBee. Phil is survived by his children, Alison and her husband, Thomas Christensen, of Yarmouth Port, Mass., and Halsey and his wife, Gail Brown, of Voorheesville, N.Y., four grandchildren, Philip (Rosanne) DeConto, Barbara (Kevin) Ruane, Jessica Brown and Shawna Brown, five great-grandchildren, Bridget, Cara, Philip, Lucas and Julia, and several nieces and nephews.
Funeral services were held at 10 a.m., Tuesday, April 11 at St. Andrew's Episcopal Church in Scotia, N.Y., followed by private interment with military honors in Memory Gardens, Colonie, N.Y. Memorial contributions may be made in Phil's memory to St. Andrew's Episcopal Church, 50 Sacandaga Road, Scotia, NY 12302. To leave the family an online condolence, please visit www. sbfuneralhome.com.