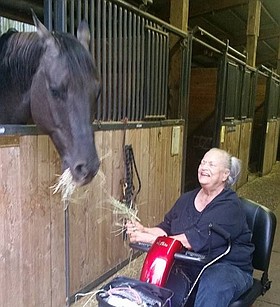 Sami Jo Neil
Hood River, Ore.
August 8, 1945 - April 13, 2017
Sami Jo Neil of Hood River, Ore., passed away Thursday, April 13, 2017, at her home at Parkhurst Place. She was 71 years old.
She was born Aug. 8, 1945, in Vancouver, Wash., to parents Ralph Angus Neil and Marjorie Skelton Neil. She has an older sister, Karen Rae Neil Coate, of White Salmon, Wash.
Sami Jo grew up on the C Dymond Ranch in Glenwood, Wash. She loved riding horses and her lambs. After her father passed away, she finished growing up back in Vancouver.
She married Myron Clarence Snyder of Portland, Ore. They had two children, Jeffrey Alan Snyder and Marjorie Eleanor Snyder Dowell. Sami went to beauty school and later obtained an associate's degree in business. She was a very hard worker, often working two jobs to make ends meet after her divorce. Ultimately, she became a genealogist for the LDS church.
She loved to drive fast cars, there was not a horse she couldn't ride, and she loved adventure and road trips … taking the road less traveled, camping, hiking, huckleberry picking, going to the beach and photography. Sami Jo could sing like an angel! She enjoyed music of all kinds from Barry White and Elvis to classical, and she also played the guitar. Drawing, writing and visiting museums were other favorite hobbies. She loved her pets, including her last one, a Bengal cat named Emperor Yao, or Buddy, as she called him. She was a passionate and beautiful woman who was very much loved. She had a great sense of humor and infectious laugh! She also had a deep abiding faith in the Lord and she loved her family.
Sami Jo is survived by her children, Jeffrey Alan Snyder of Portland and Marjorie Eleanor Snyder Dowell of Gilroy, Calif., and sister Karen Rae Neil Coate and Gerald N. Coate of White Salmon, a nephew, Monte Evan Barnedt, his wife Ruth and their three sons, Connor, Tyler and Ian of Fairbanks, Alaska, cousins Patty and Jim Skelton, uncle Gene Skelton and wife Claire and cousin Karen, uncle Lowell Neil and wife Jan, cousins Patti, Kevin and Lisa, three grandchildren, Brandon, Amanda, and Emily, and five great grandchildren, all of Portland. And many more ...
Sami Jo was a woman of tremendous strength and courage who overcame many health issues and heartbreaks in her life. She will be missed.
Services will be held Saturday, May 6 at The Church of Jesus Christ of Latter-day Saints, 1825 May St., Hood River (the time will be announced later in a service announcement). Interment will be at Parkhill Cemetery, 5915 Mill Plain Blvd., Vancouver.
Arrangements under the direction of Anderson's Tribute Center (Funerals • Receptions • Cremations), 1401 Belmont Ave., Hood River. Visit www. AndersonsTributeCenter.com to leave a note of condolence.