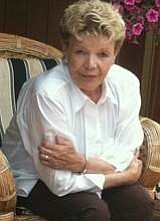 Alberta I. McCrea
Redmond, Ore.
July 14, 1939 - April 15, 2017
A beautiful, loving mother, sister, grandmother and aunt has found eternal peace.
Alberta I. McCrea passed away at St. Charles Medical Center in Redmond, Ore., on April 15, 2017, following a brief illness. Alberta was born to Albert and Margie Casteel on July 14, 1939, in Eaton, Colorado. At the age of 8, Alberta's family relocated to Redmond, where she attended school through graduation in 1957.
During her junior year of high school, she met and eventually married the love of her life, David C. McCrea. While in high school, Alberta participated in activities as a song leader, drill team majorette and a pep club member. After high school, Alberta earned a license as a beautician and eventually became a telephone operator for United Telephone in Redmond.
In 1984, Alberta's career relocated her and David to Hood River, Ore., where she continued her career until retiring after 39 years in 2008. Near retirement, she fulfilled her lifelong dream of opening an antique store in downtown Hood River. Upon the passing of David, she returned to Redmond to be near her sister and daughters.
Alberta loved spending time with family and friends, and especially time on the Oregon Beach. In her free time, she enjoyed collecting antiques, crafting ceramics, card games and, of course, shopping. Prior to her death, Alberta and her sister Beverly shared a home, along with her inseparable and beloved companion Duke.
She is preceded in death by her husband David, son David "Dee" and parents. She is survived by her sister Beverly, daughters Sherri (Danny) and Carrie (Ron) of Central Oregon, daughter Lorri of Seattle and son Clayton (Tamara) of Oregon City, nine grandchildren and four great grandchildren.
Services are scheduled for April 28 at 1 p.m. at the Redmond Memorial Chapel in Redmond. Memorial contributions may be made in Alberta's memory to www.aspca.org.