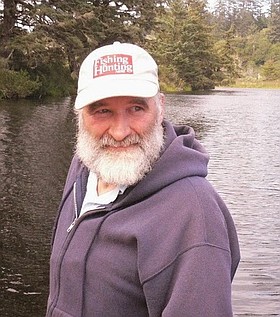 Patrick D. Wood
Seal Rock, Ore.
December 6, 1942 - October 29, 2016
Patrick D. Wood passed away on Saturday, Oct. 29, 2016, at his home in Seal Rock, Ore., from complications following a stroke at the age of 73.
A celebration of life for Pat will be held at the Toll Bridge campground in the village of Mt. Hood, Ore., the weekend of Aug. 26-27, 2017. Pat wished for his ashes to be scattered on the mountain, which will take place on Saturday morning, Aug. 26. A potluck celebration of life will begin at 1 p.m. on Sunday, Aug. 27.
Details are on Facebook at www.facebook.com/ical/u.php?uid=1344013358&key=AQDrvn5PDWtEfc6B.
Alternately, anyone wishing to join the celebration of life can contact Matt Wood at 360-921-8879, Elijah Wood at 541-716-1006, Elizabeth Wood at 541-563-2772 or Corey Omey at 503-349-4179 for details and to RSVP.
Pat was born on Dec. 6, 1942, and raised in Eugene, Ore., the son of Maurice Wood and Marian (Merrill) Wood. A graduate of South Eugene High School, Pat went on to a brief and inglorious career at University of Colorado before departing to major in skiing and hitchhiking. After many mostly successful adventures in Maine, Vermont, Guadalajara, Mexico and Portland, Ore., Pat settled in to be close to mountains, spending time in The Dalles, Hood River, and Parkdale before a brief stint in Corvallis, Ore.
Pat lived the last several years with the love of his life, Elizabeth (Bradfute) Wood in Seal Rock Beach, Ore., consumed by his garden, jazz music, cooking, brewing beer, and especially fishing, a lifelong passion. Pat worked as a welder, orchardman, assisted living counselor, irrigation manager and nursery manager for northwest native plants. Whatever he did and wherever he did it, he brought soul and enjoyment and merriment. He made a lasting impression on his friends and family and brought many bystanders into his family, along for the ride. He was a wonderful husband, father, man and host.
Pat is survived by his wife Elizabeth, son Elijah with wife Antje and grandson Leo, adoptive son Corey with wife Deb and grandson Henry, son Matthew with wife Sarah and grandson Nick, and many, many friends who miss him dearly.
Some parting words from Pat: "...[Got] my kicks cultivating the many earthy aspects of my personality. Tempus fugit, ipso carpe diem atque cunem — time flies so seize the day, and spend time with those you love."
Services for Patrick D. Wood
August 27, 2017

Celebration of Life: 1 p.m.
Potluck celebration of life, Toll Bridge Park, Mt. Hood