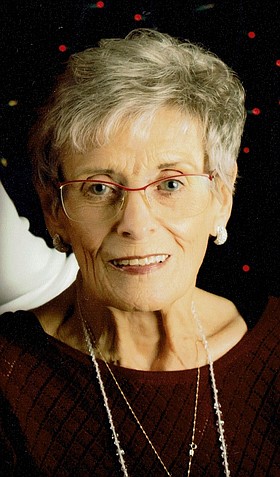 Jean Lewis
Clovis, NM
February 15, 1934 - August 4, 2017
Jean Lewis was born in Lindsay, Calif., on Feb. 15, 1934, to Carla Vaughn Noble and Lloyd Noble. She moved with her mother, sister, and brother to Hood River, Ore., at the beginning of World War II.

They were extremely poor and everything was rationed — shoes, gas, food, everything. Later on, she and the family lived with grandparents Robert and Myrtle Vaughn, who was a fabulous cook. Jean went all the way through school and graduated from high school in May of 1952 from Hood River High School. Her passion was singing. After graduation, she met Don Stitcher and they were married for 10 years and were blessed with three daughters: Marjorie Lee Stichler, Susan Jean Stichler and Evelyn Sandranne Stichler.
In 1960, they moved to Juneau, Alaska. Nursing was her first job, which she loved. While living in Juneau, she worked for Bureau of Indian Affairs and the Alaska Highway Department, designing roads. She divorced 1962.
Jean moved to Anchorage, Alaska, where she met Jim Lewis in June 1967. They were married Sept. 16, 1967, and were happily married for almost 50 years. She and Jim were blessed with a fourth daughter, Edith Louise Lewis, in August 1970. Jim's military career took them to Germany, were they visited France, Belgium, England, Luxembourg, and Austria. She worked for government offices and did volunteer work at the base hospital with the Red Cross and accumulated more than 2,500 hours of volunteer work.
After living in Germany, they were transferred to Scott Air Force Base in Illinois. Then moved to Albuquerque, N.M., were she worked at Kirtland AFB in base supply and oversaw the ordering of chemical warfare gear for Operation Desert Storm. Jean retired from Kirtland AFB for health issues on her 60th birthday.
In 2004, Jean and Jim moved to Clovis, N.M., and she continued to have multiple health problems, finally succumbing to her illnesses on Aug. 4, 2017, at the age of 83.
She is survived by her husband, Jim Lewis of Clovis, and four daughters, Marjorie Lee Stichler Chalker (Dennis) of Clovis, Susan Jean Stichler Crohan (Dave) of Palm Coast, Fla., Evelyn Sandranne Stichler Stambaugh (Rick) of Palm Coast, and Edith Louise Lewis of Albuquerque, and 12 grandchildren, Nicolas Chalker, Tiana Anaya, Ryan Skjold, Mattison Young, Amber Sedillo, Benjamin Davis, Ross Skjold, Katharine Chalker, Sarah Sedillo, Savannah Crohan, Mollie Crohan and Devin Burney. She also had seven great grandchildren. Jean is survived by sister Ann Helm of Auburn, Wash., and brother Don Noble of Ft. Worth, Texas.
Jean was preceded in death by her father Lloyd Noble, her mother Carla Fahey and her stepfather Bill Fahey.
Services will be held at 3 p.m. on Saurday, Aug. 12 at The Chapel, 1500 Thornton, Clovis, with Pastor Paul Chinkidiati officiating. Burial will follow at Lawn Haven Memorial Gardens. Her grandsons Nicolas Chalker, Ryan Skjold, Mattison Young, Benjamin Davis, Ross Skjold, and Devin Burney will serve pallbearers.
Arrangements have been entrusted to Muffley Funeral Home and High Plains Crematory, Clovis; 575-762-4435, www.muffleyfuneral-home.com.