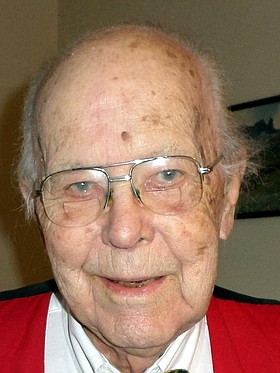 Lyle "Doc" G. Nicholson
Hood River, Ore.
March 23, 1915 - August 9, 2017
Lyle "Doc" G. Nicholson passed away on Aug. 9, 2017, at Providence Brookside Manor in Hood River, Ore. He was 102 years of age at the time of his passing.
Born in Seattle, Wash., on March 23, 1915, to John Arthur and Winnifred (Harris) Nicholson, Lyle spent his first 16 years in St. Paul, Minn., where his father was a union official and engineer with the Great Northern Railroad.
In his teenage years, each summer Lyle, his sister Lola and his mother would travel by train to Hood River to spend it with the Harris family on Miller Road in the Upper Hood River Valley. Lyle often recounted days spent in "farmer johns," shoeless, and playing in the East Fork Irrigation District ditch. Since this was before rural electrification, life was "rise with the sun and down with the sun." The family sold berries and milk in Parkdale, so there it was a rural learning experience for Lyle.
Lyle returned to Seattle in 1931, where he completed high school and went on to Washington State College (Pullman) in Veterinary Medicine. After graduating in 1937 as a Doctor of Veterinary Medicine (DVM), he did poultry research in Puyallup, Wash., where he met and married Dorothy May Robinson in 1940. They lived in Snohomish, Wash., during World War II, where Lyle did large animal practice, a rigorous and physical endeavor where he served the rural community.
In 1948, Lyle and family moved to Portland, Ore., where he established the Willamette Dog and Cat Hospital. With four veterinarians, one hospital, and two outpatient clinics, it was one of the state's largest small animal practices.
Son Craig was born in 1945, Alan in 1948, and Bruce in 1950, and daughter Jan in 1953.
Lyle retired from active practice in 1970 and moved to a retirement community in Tigard.
He was an active amateur radio operator (ham — AB7A), a charter member of the Columbia Gorge Model Railroad Club in Portland, and an avid outdoorsman (Mazamas and Trails Club of Oregon). He was an early adopter of computer technology — well before PCs became popular.
In the early 1960s, he purchased 50-acres in the Upper Hood River Valley, where he built a cabin and established the Pine Mont Tree Farm. Next to his family, the tree farm was the love of his life, where he spent much of his free time. He would convince family members to spend their vacations working there with him.
In June 2007, Lyle moved to Providence Down Manor in Hood River, where he resided until moving to Providence Brookside Manor in November 2015. A lifelong railroad enthusiast, Saturdays would find Lyle watching cousin Gary Dillon operate his garden railroad.
He was preceded in death by son Alan (1970) and wife Dorothy (2001). Lyle is survived by son Craig and wife Sue of Mt. Hood, Ore., son Bruce of Beaverton, Ore., and daughter Jan of Twin Falls, Idaho, three grandchildren and four great grandchildren.
Lyle's ashes will be buried at his beloved tree farm and a private memorial service will be held at a later date.
The family wishes to thank the caregivers at Providence Brookside Manor, Providence Hospice, and Nita Applegate, for their loving and tender care of this wonderful father, grandfather and great grandfather.
Arrangements are under the direction of Anderson's Tribute Center (Funerals • Receptions • Cremations), 1401 Belmont Ave., Hood River. Visit www.AndersonsTributeCenter.com to leave a note of condolence for the family.