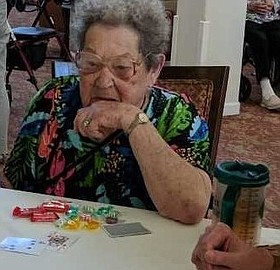 Velva Holcom
Hood River, Ore.
January 22, 1922 - August 6, 2017
On Aug. 6, 2017, Velva Holcom's 95-year-old heart decided it was finally time to rest, leaving our hearts full and grateful for the many years we had with her, and leaving a world that is a little less interesting without her in it. She died in Hood River, Ore., as she loved to live, surrounded by family telling stories and laughing.
Born Velva Maude Perkins (she always made a face when she said "Maude") on Jan. 22, 1922, she lived for almost all of her life in Salem, Ore. Her elementary school report cards, all of which she kept, showed exemplary grades, especially in reading and writing. This served her well throughout her life — she rarely met a New York Times crossword she could not conquer, and Jeopardy! was no match for her (nor was anyone allowed to call between 7-7:30 p.m. on weeknights so that she could watch it in peace).
At 19, Velva moved to Portland to work for the telephone company and fell in love with a handsome and funny sailor who was home on leave. On March 1, 1944, she and Charles (Curly) Holcom got married. They settled in one of five farmhouses on the property where she grew up, her mother and her three sisters and their families living in the other four. She and her sisters raised their children and entertained grandchildren next door to one another. For many years, they grew strawberries in the fields behind the farms, and Velva and her sister Lila managed the planting and harvesting. Like many in her generation, Velva endured her husband being overseas in three different wars, raising her four children — Ruthann, Charles, Bruce, and Mark — often on her own. When the wars were finally over, Curly and Velva lived on the farm until 1993, when they moved to Salem Greene Estates. Curly passed away in 1999, after 55 years of marriage.
Velva had many passions, including good music, murder mysteries, nature conservation (especially birds and trees), the quarter slot machines, and noisy card games. She was happiest when she had people around her, and was the social glue for all of her "clubs," camping, pinochle, bowling, the Elks. In recent years, she delighted in her weekly Texas Hold 'Em games at the Salem Greene clubhouse, and until a few months before her death, made cookies for "the poker boys" every week and called her grandchildren to brag about her $5 winnings. She never met a stranger and within minutes would have someone's life story completely memorized. She was as sharp as a tack to the very end, and on the day before she died, forgave her doctor in the ICU for causing her to miss Teen Jeopardy! (a rerun, she later admitted) and letting her dinner get cold because he explained everything to her so well.
She leaves behind not only her four children, but her nine grandchildren and eight great-grandchildren (with two more on the way), all of whom loved her beyond measure and will miss her so very much. Until the end, she made us laugh until we cried, and we vow to continue the tradition of noisy, happy family reunions with plenty of good food and endless card games in her honor.
We will be celebrating her life (not mourning her death, because she was ready to go and she always loved a good party) on Sunday, Sept. 3 at the Keizer Elks Lodge, 4250 Cherry Ave. NE, at 2:30 p.m. In lieu of flowers, please consider a donation to the Nature Conservancy to continue Velva's legacy of giving back to the earth.
Arrangements are under the direction of Anderson's Tribute Center (Funerals • Receptions • Cremations), 1401 Belmont Ave., Hood River, Oregon 97031. A private ceremony to commit Velva's urn with her husband at Willamette National Cemetery of Portland, Oregon will precede her memorial service. Visit www.AndersonsTributeCenter.com to leave a note of condolence for the family.
Services for Velva Holcom
September 3, 2017

Celebration of Life: 2:30 p.m.
Keizer Elks Lodge, 4250 Cherry Ave. NE