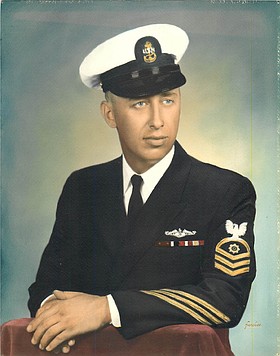 Merle "Nick" Nicklas
Hood River, Ore.
January 31, 1937 - June 18, 2017
Merle Daniel ("Nick") Nicklas died of cancer at home on June 18, 2017, and Sophia ("Sophie") Nicklas passed away two days later, also at home on June 20, 2017, with friends and neighbors at their sides. Both have been cremated, and their remains are interred at Idlewilde Cemetery.
Merle, age 80, was born Jan. 31, 1937, in Pittsburgh, Pa. Son of the late Daniel Merle and Mary Elizabeth (Janke) Nicklas, he was preceded in death by sister Edna Lois Dunmire and is survived by brother David A. Nicklas of Pittsburgh. Merle enlisted in the navy immediately after high school, where he became a submariner and served as an engineman for over a decade on both conventional and nuclear-powered submarines achieving the rank of chief petty officer. In 1969, he transferred to the army with rank of chief warrant officer and served two tours in Vietnam, commanding army supply boats on the Mekong River and Delta.
Merle received the National Defense Service Medal with Oak Leaf Cluster, United Nations Service Medal, Korean Service Medal, Vietnam Service Medal, Vietnam Campaign Medal, Vietnam Gallantry Cross with Palm, Army Commendation Medal with l OLC, Bronze Star Medial with l OLC, and Expert Badge (M-15 Rifle).
Sophia, age 85, was born Aug. 12, 1931, and attended schools in Augsburg, Germany. Sophia was the youngest child of the family "Mayerle." Along with her three sisters and her brother, she grew up in Auchesheim, near Donauwörth. Her parents had a farm and a craft shop where they manufactured and sold wooden craft supplies. She went to school in Auchesheim until eighth grade. Afterwards, she was allowed to visit a higher school in Augsburg, which, back then, was a huge opportunity.
In Augsburg, she often visited American dancing bars because she loved dancing and music. In one of these bars she met a boy, who took her to the USA at the age of 21 years. She spoke no English when she arrived in New York. She eventually established a beauty parlor business in Virginia, where she met Merle.
Merle and Sophia married April 8, 1972, and lived in Newport News, Va., while Merle worked on tugboats servicing oil drilling rigs in the North Sea. They moved to Idaho and finally settled in Hood River, where Merle worked for the Corps of Engineers at the Bonneville Dam. He retired in 1992. Sophia lived the life she always wanted. She and Merle traveled, often to her homeland in Germany.
Arrangements were under the direction of Anderson's Tribute Center, 1401 Belmont Ave., Hood River. Visit www. AndersonsTributeCenter.com to leave a note of condolence for the family.