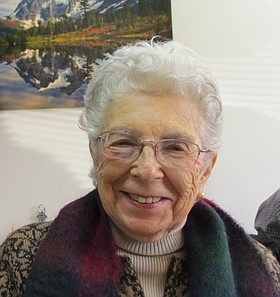 Estelle Levine
Hood River, Ore.
December 12, 1929 - February 5, 2017
Estelle Levine, 87, of Hood River, Ore., passed away peacefully in her sleep on Feb. 5, 2017. Estelle was born in Brooklyn, N.Y., on Dec. 12, 1929, the daughter of Polish immigrants, and raised in Harlem. She married Albert Levine in 1953 and raised two children in the Bronx. She attended Hunter College, obtained a Master's degree, taught in the NY Public School system and worked as a recreational therapist in a nursing home, an activity she found very rewarding.
Estelle loved traveling throughout the world with her husband, who passed in 2001. In 2011, she moved to Hood River to be near family. Here, she made many friends, volunteered at Hukari Animal Shelter, was a supporter of the Hood River Public Library, and continued to cook fabulous meals for us. Most special to her were her five grandchildren, whom she spoiled to no end. Estelle will be interred alongside her husband in New Jersey.
Estelle is survived by brother Morton Charkey and his wife Ellen of Brooklyn, daughter Sara McCaffrey and her husband Rob of Hood River, son Ed Levine and his wife Elise Feller of Silver Springs, Md., grandchildren Emily and Hope McCaffrey of Portland, Ore., Jack McCaffrey of Hood River, and Harlan and Dan Levine of New York, and special nephews Neil, Eric and Alan Donnenfeld.
Estelle's family wants to thank Brookside Manor and Providence Hospice of the Gorge for the outstanding and kindhearted care that they provided Estelle (and her family). In lieu of flowers or other remembrances, the family suggests making donations to those organizations:
Providence Hospice of the Gorge, Providence Hood River Memorial Hospital Foundation, 810 12th St., Hood River, OR 97031
Brookside Manor, 1550 Brookside Dr., Hood River, OR 97031