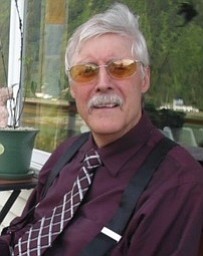 Richard "Rick" Anderson
Parkdale, Ore.
November 27, 1951 - December 15, 2016
Richard "Rick" Anderson was born in Shelton, Wash., on Nov. 27, 1951, and passed away surrounded by family on Dec. 15, 2016, at his home in Parkdale, Ore. Rick was the son of Sydney Anderson and Ann Barger Anderson.
Rick grew up in Lake Cushman, Wash., in the Olympic Mountains. He graduated from Shelton High School and Washington State University. After living in several places in Washington, Rick moved to Eagle River, Alaska, and from there to Juneau, Alaska. Rick and Delores Galbraith Grant were married in 1985 in Juneau. To their marriage, Rick and Delores brought two sons each, creating a family of six.
Rick worked at Greens Creek Mine on Admiralty Island near Juneau for many years. He retired in 2001 due to a diagnosis of multiple sclerosis, and shortly thereafter, Rick and Delores moved to Parkdale, where he served as a Ruling Elder of the Parkdale Community Church. Throughout his life, Rick was happiest when he was outside, whether hunting and fishing in southeast Alaska with his family and friends, or keeping his large vegetable and flower gardens in Parkdale weed and (mostly) gopher free. He felt blessed that in his last months he was able to watch Mount Hood reflect the season's changes every day.
Rick is survived by his wife Delores; four sons, Richard Ryan Anderson (Darcy), Robert "Bo" Anderson (Kathleen), Todd Grant (Mary), and Ian Grant (Madeline), and seven grandchildren. He also leaves his mother Ann Anderson, sister Sherrie Black (Lewie) and brother Dale (Rachelle). Rick is also survived by an uncle, as well as nieces and nephews. Rick will be missed by his long-time fishing and hunting partner Richard Jerue, his long-term friend and proclaimed brother John Hanlon, and his lifelong friend Jim Packer.
A celebration of Rick's life will be held on Feb. 16 at 1 p.m. at Parkdale Community Church. His ashes will be spread at a favorite spot near Juneau this summer. Donations in Rick's memory can be made to the Hospice of the Gorge, the National Multiple Sclerosis Society or Parkdale Community Church, sent care of Anderson's Tribute Center.
Arrangements are under the direction of Anderson's Tribute Center (Funerals • Receptions • Cremations), 1401 Belmont Ave., Hood River. Visit www. AndersonsTributeCenter.com to leave a note of condolence for the family.

Services for Richard Anderson
February 16, 2017

Celebration of Life: 1 p.m.
Parkdale Community Church