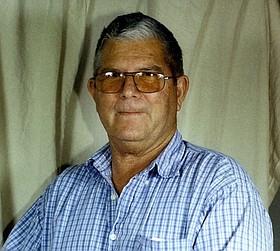 Arlen Dean Williams
Hood River, Ore.
June 27, 1933 - February 4, 2017
Arlen Dean Williams passed from this life with his family surrounding him on Feb. 4, 2017. Arlen was born June 27, 1933. He was 83 years old. Arlen lived his entire life in the Hood River Valley. His parents were Orville and Mabel Williams. He was married to his high school sweetheart, Shirley Wright, for 57 years. He visited her every day after she had developed Alzheimer's and lived at Brookside, until she passed away in 2009.
He started driving trucks when he was 15 years old for his father, and later formed Williams & Son Trucking. He let his work speak for itself, always going above and beyond. He strove to be the first truck to deliver in the morning. Arlen and his son, Mark, have hauled glass for Cardinal IG since 2003. Mark has since continued on with the business. Arlen was always ready to help whenever he could or was needed. He was still driving truck occasionally up until he was 82 years old.
He loved to sail and owned three sailboats at the time of his death. He was sailing on the Columbia River into his 80s. On one sailing trip with Shirley, they spent the night in a quiet cove. During the night, the water level dropped. They woke the next morning with the boat listing. It was resting on keel. They had to be rescued by the sheriff.
Arlen and Shirley traveled across the U.S. many times to visit their daughter in Virginia. He logged many miles behind the wheel of a car and semi-truck.
You could often find Arlen at Gehrig's Chevron Station in Odell. He liked to keep up with all the happenings of the area.
Arlen was diagnosed with an aggressive Leukemia (AML) in November, which ultimately took his life. He was very close with his family and always had one of his children with him during his chemo treatments or doctor's appointments.
He was preceded in death by his wife Shirley and his son James Williams.
Survivors include his children Marva and Jeff Brittan, Mark and Jan Williams, and Julie and Sean Bohince, grandchildren Chris Brittan, Jessica Curran, Zachary, Ian and Jacob Bohince, Morgan and Evan Williams, Darci Horton and Ashely Mickels, sister Kay Chestnut and eight great grandchildren.
A memorial service is scheduled for 11 a.m., Friday, Feb. 17 at Anderson's Tribute Center in Hood River. In lieu of flowers, memorial contributions can be made to Hospice.
Arrangements are under the direction of Anderson's Tribute Center (Funerals • Receptions • Cremations), 1401 Belmont Avenue, Hood River, Ore. Visit www. AndersonsTributeCenter.com to leave a note of condolence for the family.
Services for Arlen Dean Williams
February 17, 2017

Memorial service: 11 a.m.
Anderson's Tribute Center