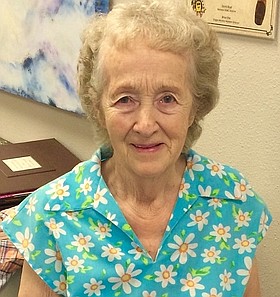 Lois Lucille Lawrence Nance
March 19, 1934 - February 9, 2017
Lois Lucille Lawrence Nance was born March 19, 1934 in Seattle, WA. Her father, Carson, worked as a baker at University Bakery in Seattle. Later that year, the family moved to Juneau, Alaska and Carson went to work as a baker for Henry Sully of Sully's Bakery.
Mother's sister Carol was born in 1936, and fourteen years later, her brother, Kit, was born. Mother thought it was the greatest thing when Kit was born because as she said, "he was almost like my own baby." Mother and Carol loved Kit very much and often pushed him around the house in their baby doll carriages. If her mother, Lucille, had shopping to do or Garden Club meetings to attend (because she was chairman of the Juneau Garden Club), she would ask Mother or Carol if they wanted to stay home and take care of Kit while she went out. They were always happy to do it! Mother always loved children and said she wanted twelve of her own, but five was enough!
Her father eventually purchased Sully's Bakery, after Sully retired, and called it Carson's Bakery. Mother loved to spend time with her father. She said, "I was his shadow." When her father got up early, Mother would too. She would sit at the breakfast table and watch her father read his morning paper and drink coffee until he left to go down to work at his bakery. Mother began working at the bakery in her teenage years as a cashier, waiting on customers and packaging bread, rolls and cookies. She even learned to drive the bread truck before she got her driver's license!
Mother had a passion for music. She began piano lessons in 4th grade and organ lessons in 8th grade and walked a mile each way to her lessons. Mother said she dreamed of playing the organ! In the summer of 9th grade, her organ teacher, Carol Beery Davis, asked if Mother would play the organ for Sunday Services while the Davis family could go on vacation. During the remainder of her high school summers, Mother played during Sunday Services. Mother and her sister Carol loved playing duets on the piano and organ. Playing music brought such joy to her heart. Mother played piano and organ at all the churches we attended. We realize now that our mother's love for music and God was an instrumental part of us attending church and developing a personal relationship with God.
Mother met her future husband, Lee Nance, in the third grade and they stayed friends throughout high school. In September 1952, Mother attended college at the University of Washington in Seattle for several days before, as she said, "I ran away, because I was homesick". The school called her mother and father and they, of course, were upset with Lois. They told her she needed to stay there for a while and get used to being away from home. Mother took a bus to Newberg, Oregon and lived with friends, Milt & Ester Daniels. She went to work in a bank in Portland, commuting by bus between Portland and Newberg. Mother worked there about six months before going back to Juneau. Later on, she would work at Alaska Costal Airlines as Payroll Clerk for several years.
Lois and Lee got engaged November of 1953 and were married January 15, 1954. We (story told by Lois) rented an old house of Oscar Lundquist for $35.00 a month in the Indian Village. Our first child, Walter Aquila was born August 12, 1955. When Walter was about 6 months old, the family moved to a cabin that Lee built. It was a tiny cabin on two acres of homestead land. After a year, we purchased the land for $160.00. Linda Inez was born December 7, 1956. At first the cabin was only lit by candles and kerosene lamps, but eventually the family did get a small Light Plant, an electric washing machine and a small oil heater to keep the babies warm. The cabin only had an outhouse and water came to the kitchen sink from the hill, but we couldn't drink it. We carried water from town in 5 gallon jugs for baby bottles and food, refilling these jugs once a week. When Lee worked swing shift at Alaska Costal Airlines as mechanic, I always set an alarm to wake up and light a candle in the window for returning Lee. How we loved that cabin! For practicality, we decided the family should move to town when I was about 5 months pregnant with Diane. We sold the cabin and moved back into Douglas and Juneau for 3 or 4 years in different rentals. Diane Lucille was born January 7, 1958. Then Daniel Lee was born November 22, 1958. He decided to come a bit early the same year.
Baby Julie Elizabeth was born February 24, 1960. After that a house came for sale in Mendenhaven, which we bought and lived in for a couple years. A small lot came up for sale across the street, and we purchased it. Lee started building a house which took a couple years to build, so we lived in a singlewide mobile home on the property. We drilled our own well by driving a well point to get drinking water. This property was located just below Thunder Mountain, about five or six miles from Mendenhall Glacier.
In 1964, (as told by Walter) our family moved to Tillamook, Oregon, coming by ferry boat from Alaska down to Washington with just a few belongings in a truck pulling our red trailer. We purchased a home in Tillamook and lived there a year and found it was too rainy, maybe even wetter than Juneau, with too many sand fleas!
The family purchased a 120 acre ranch with a large, two- story farm house in Umpqua, Oregon just outside of Sutherlin. Mother worked at a lumber company in Oakland as Payroll Clerk for 400 employees. She played the piano and organ at the Presbyterian Church that we attended in Oakland. Dad and I, (as told by Walter) dug fence posts for most of the 120 acres. Then we fenced and crossed fenced the entire property. Then we purchased 10-12 head of cattle and chickens to feed the family.
One of the cows soon became our pet, and we named her Susie. When we called her, all the other cows came running down the hill to the barn for hay. We milked Susie for several years and really enjoyed the rich cream on our pancakes and pies! We had a large pond by the house with lots of frogs in it. The kids loved putting our canoe in the pond, floating around trying to catch frogs and fish. We had a few apple, plum and prune trees on our property, and many blackberry bushes.
Mother paid us kids 50cents per gallon of blackberries, so we picked many gallons! I remember riding our bikes up a dirt road to pick blackberries. Our buckets were tied around our neck with torn strips of cloth to make a string, so we had our hands free to pick. When our buckets were full, we returned down the bumpy road home. When we arrived our buckets were only 3/4ths full of juicy squished blackberries. We still got paid 50cents each. We were often asked to pick a gallon of blackberries before we ate breakfast which we didn't mind doing because it meant a yummy pie would be on the dinner table! To this day our favorite pie is Mama's blackberry pie! We loved living on the beautiful 120 acre ranch up in the rolling hills.
Mother and Dad sold the ranch in 1972, and moved our family to Hood River to help care for Grandmother Mable Lundquist. They purchased a 1 & 1/10th acre property with a one story home. We (as told by Diane) were welcomed into the community by Claudia Perkins and invited to their church, River Of Life (at that time Assembly of God). We accepted and Mother began playing piano and organ for the service and choir. Claudia and Mother soon became best friends, getting together for coffee or tea at each other's homes. Later, they shared their love for sewing and began quilting together. I am very thankful the she taught us girls how to sew our own dresses at a very young age. I often went with Mother to the fabric stores to pick out fabric for different quilts that she was making. She loved math, so paper piecing quilts was her favorite part. They intrigued her, and kept her inspired and happy on grey wither months. She and Claudia Perkins started a quilting group in the Fall of 2013. Together they shared their time, love and talents with many young mothers. They shared their passion for making art with fabric! Each of us five children has a beautiful handmade quilt made with love by our precious Mother, Lois.
Mother worked at the High School doing secretarial jobs for several years while we were in High School. She always knew if the Nance kids didn't show up for school on time or at all. She kept her eyes on us! She also worked 4-5 years at our church, Assembly of God (River of Life now) in the office, printing bulletins, and many other accounting jobs for the Pastors. She even attended the Board Meetings assisting with the Financial Reports. Mother was an amazing woman, very organized, efficient and gifted with clerical and financial bookkeeping. And it was all handled manually at that time, not much by computers!!

Mother always baked fresh bread for our family, and began purchasing large bags of whole wheat berries and corn to grind for her bread and pancake flour. She said to the boys, "If you want to eat you've got to do some work and grind a little grain! She asked my brothers and any friends that were visiting to grind some grain on her hand crank grain mill before they could eat lunch or dinner. My brothers would often have competitions with each other to see who could grind the most grain in a short time.
I 'Diane,' remember watching Mother bake bread, pies and cookies as a young child. To this day, I think the aroma of fresh baked bread and pastries (pies) is the best aromatherapy ever! It brings back fond memories of happy times with our dear mother. She was known as the 'Pie Lady' around Hood River and at her church! When her senior church group, "Upward Bound", got together, she was always asked if she would mind bringing one of her yummy pies! Mother won second place at the Heights Pie Bake in 2004 for her famous Apricot Pear Pie! When our birthdays rolled around, we'd rather have one of Mother's pies, than a cake! Our favorite pie was Blackberry and Cherry! Mother wrote a simple bread recipe on a 3x5 card for each of us to take when we left home. She wanted us to enjoy baking fresh bread for our families, and know that it was possible if we followed this simple recipe. Thank you Mother for this easy bread recipe and for teaching us by your example how to bake! Thank you also for always baking us the most delicious bread, pies and cookies!! We Love You!!!!
5 children; Walter Aquila August 12, 1955. Linda Inez December 7, 1956. Diane Lucille January 7, 1958. Daniel Lee November 22, 1958. Julie Elizabeth February 24, 1960.
10 Grandchildren; Reyna Flores, living in Hood River. Nathan Maxwell, living in Augusta, Georgia. Paula Peters , living in Indiana. Maria Diessner, living in Hawaii. Julia Brown, living in Portland. Chelsea Tadena, living in Sacramento. Patrick Wilbern, living in The Dalles. Anthony Tombs, living in Hermiston. Luke Nance, living in Hood River. Michael Tombs, living in Ontario.
22 Great Grandchildren: Samara, Zane, Selah, Sydney, Kayden, Harper, Autumn, Damien, Jack, Rain Ann, Victoria, Ivy Lu, Noah, Hope, Carson, Summer, Aurora, Madison, Santana, Tylor, Jordan, Zang.
Sister; Carol Lawrence Livie, Salem, Or.; Brother, Kit Lawrence, Rio Rico Az.
Arrangements are under the direction of Anderson's Tribute Center (Funerals • Receptions • Cremations) 1401 Belmont Avenue, Hood River, Oregon 97031. Visit www.AndersonsTributeCenter.com to leave a note of condolence for the family.