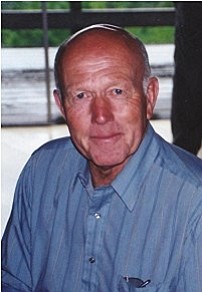 Everett "Big Ed" Duane Monahan
January 31, 1931 - February 16, 2017
Everett Duane Monahan (Big Ed) was born Jan. 31, 1931, at his parent's home in Culbertson, Neb. He was the second of three children born to George and Mabel (Klein) Monahan. He died Feb. 16, 2017, in the home he built himself, with his family by his side. He was 86 years of age.
Looking for a better way of life, Everett's mother and father moved the family to Los Angeles, Calif., where he attended grade school and graduated from Inglewood High School in 1949.
Everett was attending Peirce Agriculture College when he decided college was not for him and he began working with his father in the construction trade.
He met Marilyn Rose Ashforth at Sunset Stables in Hollywood, Calif. They were married in Santa Monica, Calif., in 1955. They were husband and wife for 59 years until Marilyn's death in 2014. Together they had three children Mike in 1956, Steve 1957 and Carol 1961.
Everett was building track homes in the rapidly growing Southern California area when he decided to start his own business and began Monarch Framing in 1954. He specialized in track homes and multi-story apartment complexes throughout the Los Angeles area, at one time employing 80 carpenters.
He then started E.D. Monahan Construction, building custom homes, remodeling houses and performing tenant improvements on commercial properties.
In 1970, he had had enough of the city and moved the family to Hood River, Ore.
He continued E.D Monahan Construction in Hood River and added building homes for sale on speculation to his line of work.
Everett was the talk of the town in the spring of 1971, when he purchased four acres of orchard for $4,000 on the west end of Belmont Road. At that price, local business men thought he was nuts.
He built three homes on the property, moved the family into the first one that same year and sold the other two. That home has been the meeting place of family birthdays, holidays and other celebrations for four generations.
Son Mike began working with his dad full time in 1974, and son Steve in 1975. Father and sons worked together until 1998, when the three purchased Cascade Glass and Steve moved into the glass business, changing the name to Heights Glass and Glazing that same year. Everett and Mike continued with the family construction company closing the business in 2004.
Everett had worked 55 years in construction, most of that time as his own boss, and 30 of those years with his two sons.
Everett especially loved the many bird dogs he had over the years. Downhill snow skiing, boxing, judo, boating, swimming, hunting, fishing, shooting, horseback riding, fly tying and carving wooden ducks are a few of the things he enjoyed doing when he wasn't working. He was never one to turn down a challenge.
He truly loved his wife Marilyn and family and had many lifelong friends.
Not one to show it outwardly, Everett had a strong belief in God and especially enjoyed the bible studies he and Marilyn attended.
Always the wanderer, at the spur of the moment Everett would take the family on Sunday drives or weekend trips to the surrounding desert and mountains or to visit their friends. The family always took summer vacations together and continue to do so.
Everett was preceded in death by his brother Donald, mother Mabel, father George, son Steve and wife Marilyn.
He leaves behind his sister Laura Linfield, son Mike (Pattie) Monahan, daughter Carol Monahan (Phil) Metcalfe, daughter in-law Pam Monahan, grandsons Daniel Metcalfe, Scott (Kelsey) Monahan, Jason Monahan, and Travis Monahan, granddaughters Amy Metcalfe and Kayla Monahan (Zach) Bohince, great granddaughter Kenna Bohince, and 11 nephews and nieces.
Everett was a member of the Hood River Elks Club Lodge 1507. The family requests that in lieu of flowers, donations in his name be made in care of Anderson's Tribute Center to The Hood River Elks Lodge 1507 Veterans Fund or Providence Hospice of the Gorge.
Services will be held Friday, Feb. 24 at 11 a.m. at Anderson's Tribute Center.
Arrangements are under the direction of Anderson's Tribute Center (Funerals • Receptions • Cremations) 1401 Belmont Ave., Hood River. Visit www. AndersonsTributeCenter.com to leave a note of condolence.

Services for Everett Duane Monahan
February 24, 2017

Memorial service: 11 a.m.
Anderson's Tribute Center