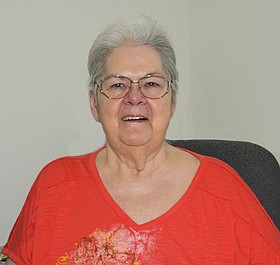 Virginia Lois Mohr
Redmond, Ore.
July 3, 1938 - January 11, 2017
Virginia Lois Mohr, of Redmond, Ore., died on Wednesday Jan. 11, 2017, of complications from Parkinson's disease.
A memorial service will be held on March 11 at 11 a.m. at St. Thomas Catholic Church, 1720 NW 19th St., Redmond, Ore., followed by a luncheon at the church. A private internment of her ashes will occur in the spring at St. Edwards Catholic Church in Sisters, Ore.
Virginia was born July 3, 1938, in Omaha, Neb., to Arthur Roy and Velva (Barker) Huntington. The family moved to Hillsboro, Ore., in January of 1943, where Virginia grew up and graduated from Hillsboro Union High School in 1956. She married James Robin Kirkbride on Feb. 26, 1955, and divorced him on March 13, 1967. Anna Lee (nee Barbara Ann), Randy Allen, and Beth Anne Kirkbride were born out of this union. She married Michael Duane Mohr on Dec. 7, 1978, and was married to him until his death on June 29, 2003. (Michael Mohr is a grandson of John Mohr, and John is a brother of Peter Mohr. Peter and John were early settlers of Hood River, with Peter arriving in about 1879 and John arriving late in 1881.) David Michael and Michelle Renee Mohr were born out of this union. Virginia and Mike lived in Kent, Wash., Tigard, Ore., Hillsboro, Lacey, Wash., Butte, Mont., Columbia Falls, Mont., and Bend, Ore., during their time together. Virginia moved to Redmond several years after Mike's passing and remained there until her passing.
Virginia worked at various jobs over the years, with the most notable achievements being co-owner of Sisters Health Food Store in Columbia Falls with her sister Loretta, and 25 years of service in various positions at the Diocese of Baker Chancery offices in Bend.
Virginia loved holidays, reunions, and similar occasions that brought family together because she got to see her children, grandchildren, and great grandchildren. She pursued different activities during her life, including bowling, square dancing, and cooking for family and friends, but her favorite activity was sewing, which included embroidery and quilting, and teaching others, especially her grandchildren. She was a member of the Mt. Bachelor Quilters' Guild for many years and contributed the St. Frances block for the 2005 City of Bend Centennial Quilt. For many years, she was a regular participant in hand quilting demonstrations given by guild members at the Sisters Oregon Quilt Show.
Survivors include her older brother Robert George Huntington Sr., of Prineville, Ore., stepson Michael Mohr II of Auckland, New Zealand, sons Randy Kirkbride of Kennewick, Wash., and David Mohr of Bend, daughters Anna Lee Kirkbride-Judah of Moriarty, N.M., Beth Anne Wroe of Auburn, Wash., and Michelle Ostgarden of Redmond, 14 grandchildren, 20 great grandchildren, and numerous extended family including cousins, nieces, and nephews.
Memorial donations may be made in Virginia's name to the Partners in Care (Hospice) of Bend-La Pine.
The family is in charge of arrangements, with assistance from Autumn Funerals in Redmond, members of St. Thomas Catholic Church in Redmond, and the staff of St. Edward Catholic Church in Sisters.
Services for Virginia Lois Mohr
March 11, 2017

Memorial service: 11 a.m.
St. Thomas Catholic Church, 1720 NW 19th St., Redmond, Ore.