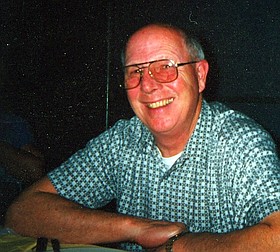 Roy Webster Wagoner
Hood River
September 10, 1942 - December 30, 2016
Roy Webster Wagoner, of Hood River, Ore., passed away on Dec. 30, 2016, at the Hood River Providence Hospital after a 2-year battle with ALS.
Roy was born on Sept. 10, 1942, in Seattle, Wash., to Harold and Elizabeth (Nellie) Webster Wagoner. Roy grew up in Twisp, Wash., and graduated from Twisp High School in 1960. Roy then attended the University of Washington and Wenatchee Valley Community College, where he played baseball. In the summers, he chose Smoke Jumping as a profession, where he jumped out of perfectly good airplanes into burning infernos on a regular basis. He was a Smoke Jumper at North Cascades Smokejumper Base in Winthrop, Wash. After leaving college, he was drafted into the U.S. Army. Roy served in the 41st Signal Battalion during one tour in Vietnam from 1964-1965. He told many stories of living with the Montagnard tribesmen and fighting with the Green Berets. Roy was Honorably Discharged in 1966 and awarded the Vietnam Service Medal Marksman as well as the Good Conduct Medal. Once stateside, he was hired by a private telephone contractor, traveling throughout the western states "from North Pole, Alaska, to Parker, Arizona," installing telephone switches.
During a brief period of study at The College of the Siskyous, he met his future wife, Deanna Acquistapace, on a blind date. Deanna made it clear that she was not going to wander the country with him. So Roy found a permanent job in Redmond, Ore., working for United Telephone Co. He then married Deanna on a scorching hot day in Weed, Calif., on July 26, 1969. After living in Redmond for nine years, he moved his family to Hood River. Roy continued to work for United Telephone as it changed names and capacities. An outdoorsman, Roy worked his five acres of land raising cows, hay, and finally cherries. He enjoyed tinkering and dabbled in numerous hobbies especially woodworking, fishing, and making people laugh.
Roy is preceded in death by his brother, Gregory Wagoner, who died in infancy, and both parents. He is survived by his wife of 47 years, Deanna, two sisters, Julie Wehmeyer (husband William) and Launie McCarty (husband Darrell), three children, Neil Wagoner (wife Kirsten), Hope Wagoner Ryan (husband Kevin), and Jason Wagoner (wife Melissa), and six grandchildren. Roy was a member of the Knights of Columbus, the American Legion, The National Smoke Jumper Association, volunteered with the Catholic Cemetery, and helped many local residents. He later volunteered at the front desk of WAAAM.
As Roy was both a veteran and a member of the Knights of Columbus, those distinctions will be honored during his services. Should you like to pay tribute in his name, please make a donation to WAAAM (Western Antique Automobile and Aircraft Museum). And, please, tell a veteran, "Thank you for your service."
Roy's services are as follows:
Thursday, Jan. 5, from 4-7 p.m., there will be a Viewing and Rosary at St. Mary's Catholic Church, 1501 Belmont Ave., Hood River.
Friday, Jan, 6 at 11 a.m., there will be a Catholic Mass honoring Roy, followed by a luncheon, also at St. Mary's Catholic Church.
Saturday, Jan. 7 at 10 a.m., interment will be at St. Mary's Catholic Cemetery, 1225 Tucker Road, Hood River.
Arrangements are under the direction of Anderson's Tribute Center, 1401 Belmont Ave., Hood River. Visit www. AndersonsTributeCenter.com to leave a note of condolence for the family.
Services for Roy Webster Wagoner
January 7, 2017

Burial: 10 a.m.
St. Mary's Catholic Cemetery, 1225 Tucker Road, Hood River