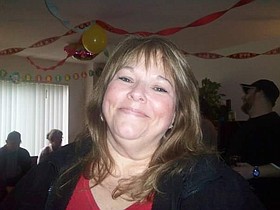 Thea Elizabeth Dean
The Dalles, Ore.
November 23, 1958 - December 23, 2016
Thea Elizabeth Dean was born Nov. 23, 1958, in Hood River, Ore., and passed away Dec. 23, 2016, at her home in The Dalles, Ore.
Thea grew up in Hood River and attended Coe Primary and May Street Elementary schools. She was a Hood River Junior High Patriot and graduated from Hood River Valley High School in 1977. Following graduation, she moved to Sacramento, Calif., and attended Bauder College. There, she met roommate and lifelong friend Cindy Chiacone. She graduated from Bauder in 1979 and moved back to Oregon. Thea went to work for Morton & Assoc. Foodservice Brokers as a sales representative. While at Mortons, Thea met Cathy Fern, a single mother with a young daughter named Kelly.
The three became very close. When Kelly was 9, her mother was diagnosed with a terminal disease and Thea moved in with them to help with Kelly. And in 1991, when at age 13 her mother could no longer care for her and had to be moved to a care center, Thea became Kelly's legal guardian and raised her as her own. Although parenthood was new to Thea, she flourished at it with care, humor, and lots of love.
In 1997, Thea was forced into early retirement and permanent disability. She was diagnosed with psoriatic arthritis in 1977, and was in and out of remission through the years. Thea never let her health or pain slow her down, if possible.
Thea loved the music of the late '60s. When the Beatles came to Portland, her mother bought four tickets, and much to her three older brothers' dismay, she joined them at the concert … and so began her love affair with music. In 1997, Thea and college friend Cindy Chiacone road tripped to Florida to see The Rolling Stones. In the 1980s, Thea and BFF Kim Kellogg began an infatuation with a tall skinny country singer named Dwight Yoakum and saw him nine times together over the years, most recently in 2012 at the Crystal Ballroom in Portland. She attended many, many, many concerts over the years.
Thea loved to go camping and she loved animals. Since she was not allowed to have animals as a child, she always had a dog that she adored and treated as family. She also loved the beach and, in 2001, Thea and roommate Charla Sinclair moved to Otis, Ore. For the next 11 years, they lived in Otis, Lincoln City and Waldport, before returning to Hood River in 2012. Thea and Charla most recently moved to The Dalles, where she lived until her passing.
Above music and the beach, Thea's two favorite things in the world were her two grandchildren, Garbrielle Michael and Maddison Elizabeth. Her eyes danced and her smile spread from ear to ear when she would talk about what they had just said or done. There were camping trips, swim days, the Hood River County Fair every July, the Christmas train with pajamas and hot chocolate, beach trips and just the overnights — she cherished them all.
Thea was loved by everyone who met her, and she truly loved to get to know everyone. She never met a stranger. She touched so many lives in so many ways. She was one of the most compassionate people and never hesitated to give herself to a friend.
Thea is survived by her daughter, Kelly Meininger of Beaverton, Ore., son-in-law Justin Meininger, and grandchildren Garbrielle and Maddie of Oregon City, sister-in-law Tracy Ray and nephews Tyler and Trevor Ray, and families, all of Redding, Calif., nephew Damon Ray and family of Grants Pass, Ore., cousin Kathy Powellgailer and family of Chattanooga, Tenn., and one brother, Lamar Ray, friend and roommate for 20 years, Charla Sinclair of The Dalles, and son Brian, and BFF for 44 years Kim Kellogg of Mt. Hood, and sons Zachary, Matthew and Cody Kellogg and families.
Thea was preceded in death by her mother and father, Mildred and Dennis Dean, and two older brothers, Stan Ray and Mike Dean.
In lieu of flowers, please make donations to a local pet rescue of your choice in Thea's name.
Services are planned for 2 p.m. on Saturday, Jan. 14 at Anderson's Tribute Center (Funerals • Receptions • Cremations), 1401 Belmont Ave., Hood River. Visit www.AndersonsTributeCenter.com to leave a note of condolence for the family.

Services for Thea Elizabeth Dean
January 14, 2017

Funeral: 2 p.m.
Anderson's Tribute Center