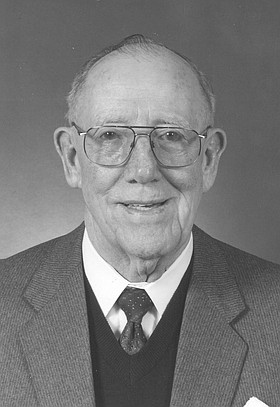 William "Bill" Bright
Wilsonville, Ore.
September 3, 1917 - December 28, 2016
William "Bill" Bright died on Dec. 28, 2016, at his residence at Springridge Court in Wilsonville, Ore., after a brief illness. Bill was born on Sept. 3, 1917, in Saugus, Mass.
A memorial service, scheduled for Jan. 7 and postponed due to weather, will take place Saturday, Feb. 11 at 10 a.m. at Lincoln Memorial Funeral Home in Portland, Ore.
Bill was preceded in death by his beloved wife, Joan. Survivors include daughters Mary Olson (Dave) of Salem, Ore., and Betty of Minneapolis, Minn., daughter-in-law Debbie Sanguras (Larry, deceased) of Hood River, eight grandchildren and 11 great-grandchildren.
Early on, Bill had decided on a career in electrical engineering. After turning 21, the next eight years were spent supervising electrical installations in shipyards that were building ships for the Navy in San Francisco and Portland. During most of that time, he was taking engineering classes at night school at Franklin Union Technical Institute in Boston, and then later correspondence courses, all of which complemented his work experience and deepened his knowledge of the electrical power industry.
In 1946, Bill foresaw that shipbuilding to support the war effort would be declining, so he enlisted in the military at age 28. He was shipped to Fuchinobe, Japan, where as a staff sergeant he was in charge of all utilities, and designed and built a new overhead power distribution system to replace the decaying underground system. One of his favorite stories was when requisitioning supplies from the Japanese, he was always required to sign for the items. He never used his true name, instead always signing "Joe Blow from Kokomo."
Bill was honorably discharged from the Navy in November 1947. In January 1949, he was hired as a sales engineer with Maydwell and Hartzell in Seattle, Wash., where he learned about the electric utility industry. Six months later, he was transferred to Portland as the District Manager.
In 1958, Bill formed his own company "Western Power Products," to buy, sell, distribute, design and manufacture products used in a variety of industries related to electric power. Initially located in Portland, Bill consolidated operations and moved the company to Hood River in 1975, and built a manufacturing plant on a four-acre parcel on the southern bank of the Columbia River in Hood River. In August 1986, Bill sold WPP and happily retired, enjoying travels with his much-loved wife, Joan.
Throughout his career, Bill continued to help utilities solve various problems, designing products to help them do jobs faster, easier, and often more economically, and was awarded 16 U.S. patents in the process.
In 2000 Bill published his book, "Two Bills from Boston," that detailed the personal and business philosophies that supported him on his path to business success.
For further information, go to lincolnmemorialpk.com.
Services for William Bright
February 11, 2017

Memorial service: 10 a.m.
RESCHEDULED; Lincoln Memorial Funeral Home in Portland, Ore.