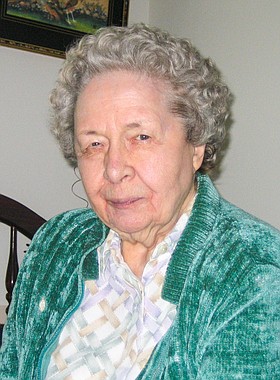 Elizabeth Cutshall
Oregon City, Ore.
January 20, 1922 - December 27, 2016
Elizabeth Cutshall died peacefully at the age of 94 at McLoughlin Place Memory Care in Oregon City, Ore., where she had received loving care for more than 13 years, with her daughter, Mary Dickey, at her side.
Our mom was born Jan. 20, 1922, outside of Savageton, Wyo., the fourth of five children, and soon her family moved to Mt. Angel, Ore., where she grew up. She had two older sisters and both an older and a younger brother. In 1943, in the midst of World War II, she and her brothers volunteered to serve in the military. Mom was in the Women's Army Corps (WAC) and after training, first went to New Guinea, where she worked as a cryptographic code compiler, and then served in the Philippines.
She spent part of her career as a bookkeeper, worked as a ward clerk at Good Sam hospital, worked as a welfare case worker and finished her working years with the federal government at the BLM, first in Portland, Ore., and then in Anchorage, Alaska.
She married Walter Cutshall and had two daughters, Carol and Mary. She loved her three grandsons, Mike, Chris and Nick Bishop, and she enjoyed crocheting and doing crossword puzzles. She traveled throughout the US and to Europe.
When her memory deteriorated in 2002, she moved to McLoughlin Place, where she spent the rest of her life.
Services are pending at this time and arrangements are under the direction of Anderson's Tribute Center (Funerals • Receptions • Cremations), 1401 Belmont Ave., Hood River.
Visit www. AndersonsTributeCenter.com to leave a note of condolence.