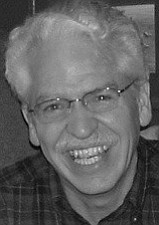 Kenneth David Hobson
Milwaukie, Ore.
March 12, 1948 - January 5, 2017
Kenneth David Hobson, a long-time Oregonian, died at home with his family in Milwaukie, Ore., on Jan. 5, 2017. He was born on March 12, 1948, in Rockville Centre, N.Y. He was the oldest of David and Claire Hobson's 13 children, graduated from St. Francis Academy in Baker City, Ore., in 1966, and earned a degree in political science from the University of Oregon in 1970.
Ken loved many things in this world, including music, photography, sports, card games and the Ducks, but his truest and most-enduring love was for his wife Charlene and the family they created together. Their three sons, Josh, Joel and Greg, grew up in a home filled with thoughtful discussion, passionate play, high expectations and steadfast faith. His belief in a loving God helped shape the way he treated people and informed many decisions throughout his life. His four grandchildren were his constant light and motivation during the last years of this life, as he stayed positive in the face of his health challenges.
Ken spent countless hours capturing life through his camera's lens and had a unique ability to see the beauty in this world. We are grateful for the wealth of moments that will live on because of his talent. He found extraordinary joy in amassing and sharing his epic vinyl collection. He loved events and few things were more enjoyable to him than attending a big family party (both Hobson and Rothenfluch) or sitting in the stands cheering on his boys. Ken lived in the moment, whether that meant organizing a living room dance party, holding court with an animated telling of a favorite story, or getting a kick out of an inside joke with his grandkids.
Ken worked as a city planner and manager in Baker, Ore., Cascade Locks, Ore., Newport, Ore., Florence, Ore., and Bend, Ore. He took pride in his work and brought the same sensibilities to his occupation that he did to the rest of his life. He was a man of principle and balance, always striving to understand the perspectives of others, while remaining true to his own core values. In the words of his wife Charlene, "He was the best husband and soulmate, a loving and proud father, a playful and happy Grandpa, a good son, caring brother and a faithful friend. You just couldn't ask for much more and we love him so very much. We have many, many good memories and we're hoping that these bring us strength in the coming days and years."
He is survived by his loving wife of 42 years, Charlene, their three sons, Josh (Lauren), Joel and Greg (Lindsay), four grandchildren, Meredith, Bryce, Porter, and Lincoln, his father David, siblings Randy (Shannon), Darrell (Anita), Terry (Marge), Curtis (Michele), Shireen (Dean), Deirdre, David (Anne), Matt (Lynn), Nathan (Claire), Toni Ann (Andrew), Rachelle and Jason (Heather), his sisters-in-law Dianne, Mary Jean (Lee), Eileen (Dave), Joan (George), and many other dear family members and friends. He was preceded in death by his mother Claire.
A funeral service will be held at St. Anthony of Pedua Catholic Church in Portland, Ore., at 10 a.m. on Saturday, Jan. 14.
Services for Kenneth David Hobson
January 14, 2017

Funeral: 10 a.m.
St. Anthony of Pedua Catholic Church in Portland, Ore.