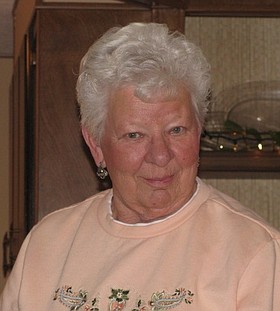 Sharon (Hathorn) Wilson
Salem, Ore.
October 15, 1936 - January 6, 2017
Sharon (Hathorn) Wilson peacefully left us on Jan. 6, 2017, in Salem, Ore., to be with God our Father.
Sharon was born Oct. 15, 1936, in Hood River, Ore., to Ray and Gladys Hathorn. Sharon was the oldest of three, followed by her brother James Hathorn and her youngest sister Linda (Hathorn) Lewis.
She graduated from Wy'east High School and in August of 1954, married her sweetheart, Carl Wilson. Together, they went on to raise four children, Robert Wilson, Jeffrey Wilson, Tina (Wilson) Hensley and Lisa (Wilson) Kent. After their marriage, and throughout the years, they've resided in The Dalles, Corvallis, and even returned to the town of Hood River. After returning to Hood River to help care for her aging mother, Sharon contributed to the community by becoming one of many advocates for and one of the committee members who lobbied for the placement of a controlled cross walk on the Heights.
When Sharon's husband, Carl, passed in June of 2014, Sharon then moved to Salem. Here, she lived at a retirement center and was able to meet new people and become involved in a variety of activities. Some of her activities included being a Welcoming Ambassador for the retirement center, along with being involved in games such as bean bag baseball, which she loved to play. They even participated in tournaments against other facilities.
Sharon enjoyed many friends, but did not want any services or ceremonies in regards to the funeral. She did however, indicate that she would like a family gathering of her children, grandchildren, and great grandchildren at Lost Lake, a place they enjoyed, to remember her and Carl.