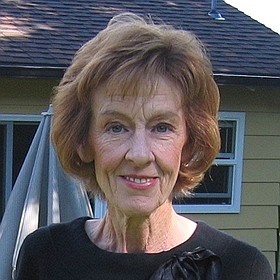 Geraldine "Geri" Gabriel
Hood River, Ore.
April 12, 1944 - December 27, 2016
Geraldine "Geri" Gabriel, of Hood River, Ore., passed away Dec. 27, 2016, at Providence Hood River Memorial Hospital. She was born in Oklahoma City, Okla., on April 12, 1944, to Bill and Virginia Gabriel. They moved to Hood River in 1946. She is survived by her daughter Dena Porter and son-in-law Jon Pollick, her siblings Cecil "Sid" Gabriel, Phyllis Brown, and Bill Gabriel Jr., as well as cousins, nieces and nephews.
Geri worked for Diamond Fruit Growers for 20 years. She made many lifelong friends during that time. After Diamond Fruit, she provided a housekeeping service for several years.
Geri always looked forward to the spring and summer, when she could be outside working in her garden. She loved her flowers and her fruits and vegetables. She had a talent for making beautiful floral arrangements. She entered her floral designs in the county fair and won several blue ribbons. She was a member of the local garden club, which she thoroughly enjoyed and missed when she could no longer participate. Highlights for her included making arrangements for Heart of Hospice and arrangements for friends' weddings.
Geri was a talented seamstress and a wonderful cook. She enjoyed trying new recipes and watching cooking shows. She took pride in keeping an immaculate home. Geri had a deep love and compassion for animals. In particular, she loved her kitty cats.
Geri's family would like to thank all of the wonderful people at Meals on Wheels, Volunteers in Action, Providence Hospice, and the doctors, nurses and staff at Providence Hood River Memorial Hospital for their kindness and compassion. The family would also like to say a special thank you to her friends who checked in on her, brought her food and ran errands when she was unable to do so. Your friendship meant so much to her.
No memorial services will be held. Memorial contributions may be made to a charity of your choice in her name.
Visit AndersonsTributeCenter.com to leave a note of condolence for the family.