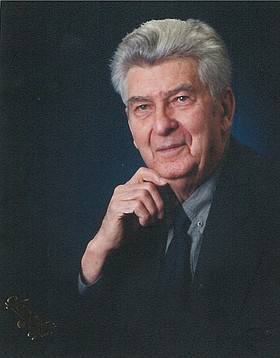 Melvin Emmett Klein
Hood River, Ore.
January 6, 1921 - January 10, 2017
Melvin Emmett Klein of Hood River, Ore., died Jan. 10, 2017, in The Dalles, Ore., at Mid-Columbia Medical Center. He died from complications of pneumonia at the age of 96.
He was born to Edward Klein and Eleanor (Nora) Wunder Klein in Henry, Ill., on Jan. 6, 1921. His father was a butcher and farmer while his mother was a homemaker.
Melvin attended St. Mary's Catholic school in Lacon, Ill.
He enlisted in the Marine Corps soon after Pearl Harbor and served four years. A machine gunner, he fought in the Pacific and survived the battles of Guam and Iwo Jima. After the war, he was discharged from service as a Corporal and distinguished himself as an expert marksman.
When he returned from the war, he traveled West and stopped in Hood River to visit a marine buddy. There he met the love of his life, Irene Annabel Phillips. They were married Aug. 12, 1950.
Along with raising his family with Irene, carpentry and farming were his life's work. His faith was an important part of his life. Hunting, fishing, skiing, playing cards and telling stories were his passion.
Irene and Mel were married for 48 years and had five children, who survived him: Christina and husband Conrad Nielsen, Mark Klein and wife Deborah, Cecilia and husband Dan Maciak, Kathryn Klein and husband Brad Fowler, and Teresa and husband Greg Simurdak; grandchildren Heidi Nielsen, Julie Hughes, Justin Cherrington, Jessica Miller, Mario Guisto, Kathryn Gidley, Tony Guisto, and Kristoff Fowler; and great grandchildren Olivia Combe, Nora Combe, Ethan Miller, Eli Miller, Kate Gidley and Victoria Guisto. He is also survived by his sister Justine and husband Melvin Budd from Lacon, Ill., and many loving nieces and nephews.
Melvin was preceded in death by his loving wife Irene in July of 1999. He later met and married Esther Fioretti, who passed away in 2014. He was also preceded in death by two brothers, Elmer Klein and Donald Klein.
The Apostles' Creed: I believe in God, the Father Almighty, Creator of heaven and earth; and in Jesus Christ, His only Son, our Lord: Who was conceived by the Holy Ghost, born of the Virgin Mary, suffered under Pontius Pilate, was crucified, died, and was buried. He descended into hell: the third day He arose again from the dead; He ascended into heaven, sitteth at the right hand of God, the Father Almighty; from thence He shall come to judge the living and the dead. I believe in the Holy Ghost, the holy Catholic Church, the communication of saints, the forgiveness of sins, the resurrection of the body, and life everlasting. Amen.
Memorial donations can be made to St. Mary's Catholic Church in Hood River.
Service for Melvin will be at 1 p.m. on Saturday, Jan. 14 at St. Mary's Catholic Church, 1501 Belmont Ave., Hood River. Interment will follow at the Pine Grove Butte Cemetery. A rosary and viewing was held on Jan. 13 at St. Mary's.
Arrangements are under the direction of Anderson's Tribute Center (Funerals • Receptions • Cremations), 1401 Belmont Ave., Hood River. Visit www. AndersonsTributeCenter.com to leave a note of condolence for the family.

Services for Melvin Emmett Klein
January 14, 2017

Funeral: 1 p.m.
St. Mary's Catholic Church, 1501 Belmont Ave., Hood River. Interment will follow at the Pine Grove Butte Cemetery.