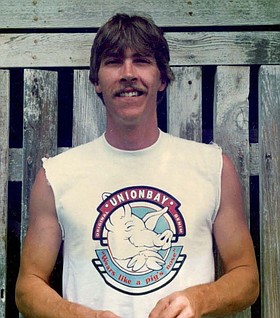 Michael Norman Denny
Thorn Bay, Alaska
April 25, 1961 - December 31, 2016
Michael Norman Denny, father, son, brother, uncle, brother-in-law, cousin and friend, left this life unexpectedly on Saturday, Dec. 31 at his home in Thorn Bay, Alaska. Mike was born April 25, 1961, in Portland, Ore., to James Denny and Donna (Krall) Denny. The only son in a house full of girls meant Michael would forever be "Dad and Mom's favorite." He spent the first 10 years of his life in Vancouver, Wash., before moving to White Salmon, Wash., in 1971. Mike spent his youth riding motor cycles, playing baseball and having fun with his friends. He graduated from Columbia High School in 1979.
After graduation, Mike worked for various local logging companies and gained vast experience in all aspects of logging, earning him much respect in the logging community. In 1982, when his employer decided to take their operations to Alaska, Mike was the first in line to sign up for the new adventure. Mike lived most of his life in Alaska, coming down to the mainland periodically to see if he could adjust to the "normal" life, but always ended up back in the state he loved. Although Mike lived in Alaska, he was a loyal friend and never failed to catch up with old friends when he came back to White Salmon.
Mike knew the importance of being a good father. He spent his vacations making memories with his two beautiful daughters, whether it was walking in the woods or at a vacation resort in Hawaii. Mike built a beautiful log house in Thorn Bay and was happiest when his daughters would come to visit and they could just putter around. Mike also enjoyed wood working, oil painting and golf.
Mike leaves behind many who loved him dearly: two daughters, Lisa Denny (Kathy Perkins) and Jillian Denny (Linda Vance), his mother, Donna Denny-Moats of Hood River, Ore., sisters Debra Hogberg (Arn), Cindy Dittmar (Will) and Kim Arden (Clint), and numerous nieces and nephews, aunts, uncles, cousins and many, many friends. He was preceded in death by his father, James Denny, his maternal grandparents Norman and Margaret Krall, and paternal grandparents Louis Denny and Pearl Bussear.
A celebration of life for Mike will be held at Gardner Funeral Home in White Salmon at 1 p.m. on Saturday, Jan. 28. A reception will follow.
Services for Michael Norman Denny
January 28, 2017

Celebration of Life: 1 p.m.
Gardner Funeral Home in White Salmon