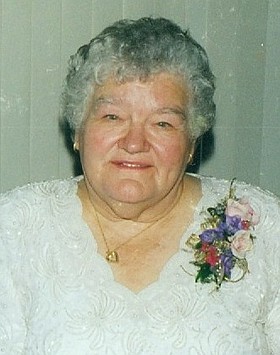 Beatrice "Bea" Ellen Goss
The Dalles, Ore.
November 12, 1931 - January 17, 2017
Beatrice Ellen "Bea" Goss passed away Jan. 17, 2017, at Flagstone Memory Care in The Dalles, Ore. Bea was born Nov. 12, 1931, in Pitcher, Okla., to Marion James Hubbell and Mildred Elizabeth Herring Hubbell. She was the fifth of six children. She was 85 years old at the time of her passing.
Bea spent her childhood in Oklahoma, California, and Washington before her family settled in Parkdale, Ore. Bea was lucky to find love when she married her husband, Mardis E. Goss, after he returned from the war. The couple were engaged on Valentines' Day 1947 and married July 7 of the same year. They spent 58 wonderful years together.
The couple had four children, Michael Dee, Richie Eugene, Donald Roy, and Ellana Mardene, and their beloved nephew Robert Eldon Huckaby. Bea was blessed with 10 grandchildren, Mick, Ange', Tim, Richie, Kira, Donnie, Eddie, Bob, Randy, and David. And she has several great grandchildren.
Bea started her working career at the tender age of 9, working in a grocery store in Bellingham, Wash. She had many jobs as a young person and worked as a fruit packer for Stadelman Fruit for many years, eventually working up to packing boss. At age 40, she switched gears and courageously went back to school to earn her real estate license, and eventually earned her Brokers license. She worked for Hershner and Bell Realty in Hood River for over 20 years.
Family and numerous friends were Bea's passion and delight. She spent many summers enjoying the numerous campgrounds of the Pacific Northwest, with Mardy going along with her in their camper. The couple were pillars of their local church and Bea took pride in teaching bible classes, handling the pantry duties, and giving out Christmas baskets every year to people in need.
Bea was a happy person who loved to travel as well as visiting with her many friends. She took great passion in everything she did, whether it was working in the church or playing card games for endless hours with those she was closest with. In her later years, Bea was famous for baking cookies, which earned her praise from her retirement home to her grandson's military base in Japan. Her crochet work could be found around the home she shared with her family, and she always greeted a visitor with open arms.
Bea is survived by her children, Michael (Rebecca) Goss, Richie (Bonnie) Goss, Donald Goss, Ellana (Richard) Fox, and Robert (Sylvia) Huckaby. She is also survived by her grandchildren, great grandchildren, nieces, nephews, and many friends and loved ones.
The family wishes to thank those who cared for Bea during the last years of her life, and everyone who shared in the faith, charity, joy, and love of her life.
Arrangements are under the direction of Anderson's Tribute Center (Funerals • Receptions • Cremations), 1401 Belmont Ave., Hood River, Ore. Visit www. AndersonsTributeCenter.com to leave a note of condolence for the family.