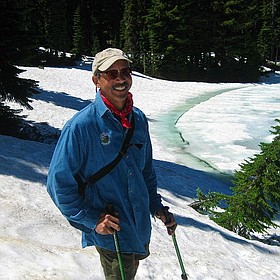 Franke William Thomas
April 23, 1952 - January 14, 2017
Franke William Thomas passed peacefully away on the beautiful, snowy evening of Jan. 14, 2017. He was surrounded by love with his wife and children at his side, and his siblings close by. He transitioned to the sound of 1970s soul music, the taste of fine bourbon, and a view of the trees.
He is survived by his three children, Derek Yost, Mariko Thomas, and Micah Thomas, and his beloved wife, Carrie Thomas (née Higgins). Additionally, he is survived by his siblings Faun Jefferson, Danny Thomas, Charles Thomas, Jr., Larke Crable, Lisa Thomas, Kim Thomas, Charles Thomas III, and Charlotte Thomas, his adored nieces and nephews, and many other members of the Thomas clan, both by relation and choice.
Franke was born in Los Angeles, Calif., on April 23, 1952 to Sachiye (née Oyama) Thomas and Charles Thomas, both deceased. At the age of 12, he experienced his first backpacking trip to the high Sierras through Outward Bound Adventures (OBA), a Pasadena-based organization committed to introducing inner-city youth to the mountains. That trip shaped the rest of his life. He fell in love with the mountains. The natural world was his home of heart. Franke continued working with OBA as a counselor, mentor, teacher, and leader committed always to giving other young people the life changing opportunity that was afforded him.
Franke graduated from Southern Oregon College in 1977 with a BS in biology, and again from Southern Oregon State College 1982 with an MS in biology and environmental studies. It was there he met his wife, Carrie. They married in 1983. Franke spent 39 years in the field of education, first as a science teacher, then as a school administrator. He worked for the Gresham-Barlow School District for 25 of those years. In 1993, Franke's sense of adventure took him and his family to their first international teaching job in South Africa. It was there he fell in love with world travel and the excitement of exploring new cultures, always with an eye on the biology of each new environment. He returned to the United States in 1996 and continued his career as a vice principal and principal. In 2005, the family relocated their primary residence to Hood River and moved back overseas where Franke worked as a school administrator in Singapore, Scotland, and Zimbabwe, and continued to enjoy traveling and exploring the world.
Whether it was formally in a classroom, or informally on a trail or over a beer, Franke was one of those rare people who were truly born to teach. He continues to teach and guide us every day with the thought, "What would Franke do?" to help keep us on the right path.
Franke left an indelible mark on every community he entered. Whether it was his endless compassion for the people around him, his memorable habit of placing a fish tank and plants in every place in which he worked and lived, his infectious love for and knowledge of flora and fauna, taking time to help anyone with anything, or his balance of wisdom, kindness, and humor. He found great joy in life.
A celebration of life will be held at a later time. In lieu of flowers, we encourage donations to Outward Bound Adventures (www.obainc. org), so that the important work of teaching young people about nature can continue.
"The mountains are calling, and I must go" (John Muir).
Arrangements are under the direction of Anderson's Tribute Center. Visit www. AndersonsTributeCenter.com to leave a note of condolence for the family.