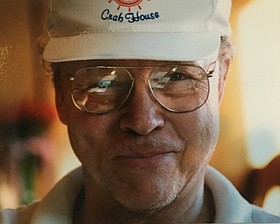 William "Bill" V. Fashing, Jr.
Hood River, Ore.
November 7, 1934 - January 19, 2017
William (Bill) V. Fashing, Jr., 82, died on Thursday, Jan. 19, 2017, in Hood River, Ore. He was born in St. Paul, Minn., to William V. Fashing, Sr., and Veronica Fashing (née O'Donnell) on Nov. 7, 1934.
He is survived by his loving wife of 58 years, Carol Luckett Fashing, his three children, Patti Fashing (Kurt Brux), Bill Fashing (Linda), and Terri Fashing (Gabe Winer), his siblings Florence Stafford, Lois Belrose (Frank), Patricia Stuelpnagel (Jack), and John Fashing (Sheri), his four grandchildren (Mary, Allison, Gillian and Levi), three great grandchildren (Rebecca, Stuart and Isaach), and many other family members and friends.
Bill served in the Marine Corps at the end of the Korean War and worked for Mountain Bell until he retired in his 50s. After retirement, he owned his own telephone service company, and managed communications systems for several hotel establishments. He worked hard until he was 78 years old and delighted in meeting tough challenges with inventive solutions. He loved boats, fishing and family.
Bill lived in nine different states over the years, enjoyed his travels to Mexico, and loved his final city of Hood River for its stunning beauty and beckoning rivers.
A memorial will be held later this year for family and friends.
The family wishes to thank all of those who cared for him during his last months. In lieu of flowers, donations may be made to the building fund of St. Mary's Catholic Church in Hood River at www.stmaryshoodriver.com/campaign, or to the Scott Firefighter Stairclimb fundraiser for the Leukemia and Lymphoma Society at www.llswa.org/site/TR/Events/FirefighterStairclimb?px=1809975&pg=personal&fr_id=1552.