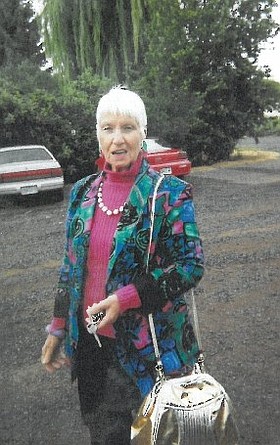 Chloris Anna Thorne
January 11, 1925 - July 4, 2017
Chloris Anna Thorne was born Chloris A. Mullennax on Jan. 11, 1925, in Pawnee, Okla. She passed away on July 4, 2017.
At 16, she married William A. Sappington. They had one child, LeVoy, before moving to Hood River, Ore., where they had two children, Leona and Larry. They moved to Arlington, Ore., and had one more child, Alan. In 1959, they moved to Goldendale, Wash. She worked at Klickitat Valley Hospital as a nurse aid and raised three of the children through high school there.
They divorced in 1969, and she moved to Portland, Ore., and worked at the VA hospital until she retired. She married and divorced Oscar Thorne. She moved to Prineville, Ore., where she raised chickens and many stray dogs until being too ill to take care of herself. During her time in Prineville, she spent time with hospice visiting very sick people. Chloris was a very strong woman not wanting to depend on others.
Chloris was preceded in death by three sisters, mother, father, and one grandchild.
She is survived by many grandchildren and great grandchildren. They live in Oregon, Washington, California, and Florida. She is also survived by her children Albert (LeVoy) Sappington, Tenn., Leona Thompson, Wash., Larry Sappington, Wash., and Alan L. Sappington, Ore.
Arrangements are under the direction of Anderson's Tribute Center (Funerals • Receptions • Cremations), 1401 Belmont Ave., Hood River.
Visit www. AndersonsTributeCenter.com to leave a note for the family.