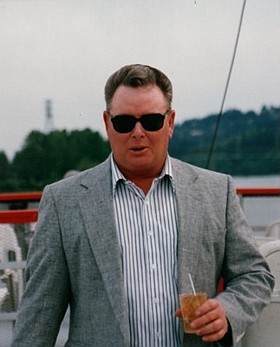 R.L. Rick Ensminger
March 19, 1943 - June 28, 2017
R.L. Rick Ensminger passed away on June 28, 2017. Rick was born in Colorado Springs, Colo., on March 19, 1943, where his parents had worked packing their horses into the mountains and Pikes Peak. In the winter, they moved their horse by train to Tucson, Ariz., when Rick was 5 years old. Soon after, the family moved to Fresno, Calif., where they stayed and Rick graduated from Fresno High School in 1961.
In 1966, he saw an ad for work at Mt. Adams Orchards in White Salmon, Wash. He brought his family, worked for two years and liked the orchard career. After he divorced, Rick moved to Colorado, where he got his CDL for long haul trucking in the United States. In 1969, he met Jody Benjamin. They were married in August 1970 and moved directly to Underwood, Wash., where he was employed by Triple A Orchards.
He then went to work for SDS Lumber Company as a log truck driver, where he worked for five years. He felt, though, he had a calling for and loved the farming business, and he began his 40-year career managing Celilo Vineyards and Underwood Orchards, where he and wife Jody remained living and working until he retired in December 2015.
Rick also had Ensminger Trucking, which he started in 1980, hauling pears and cherries to Underwood Fruit and wine grapes to several wineries in Washington and Oregon. His passion was quality wine grapes grown on Underwood mountain. He was passionate about so many things, like football. He so enjoyed fantasy football, traveling to Mexico, RVing with friends around the west, and going to Alaska with friends fishing, stating, "To get food for the family." Elk hunting with his sons and friends was important to him. In the winter, Rick and Jody found Yuma, Ariz., where they spent winters for the last 18 years.
He was a member of Elks Lodge 1868 and past Exalted Ruler 1983-1984.
He is survived by his wife, Jody, of 47 years, sons Eron (Shelly) of Washougal and Ryan of Aberdeen, daughters Leslie (Kat) of Fresno and Julie (Rod) of Fresno, sister Barbara (Al) of Fresno, brothers Chuck (Wendy) of Colorado Springs, Rob (Cathy) of Colorado Springs, and Jim (Regina) of Colorado Springs. He was preceded in death by his brother Don.
The family would like to express their deepest gratitude to Skyline Hospital and Providence Hospice of the Gorge for their excellent care.
Rick was laid to rest at Chris Zada Cemetery in Underwood on June 8. A memorial service will be held at the White Salmon Elks Lodge on July 22 at 1 p.m. Please send condolences to the Ensminger family by visiting www.gardnerfh.com.
Services for R.L. Rick Ensminger
July 22, 2017

Memorial service: 1 p.m.
White Salmon Elks Lodge