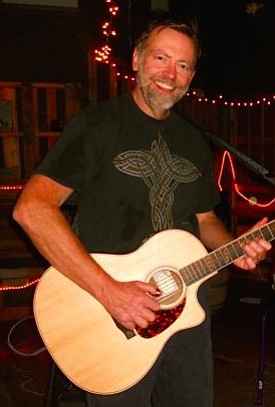 James "Jim" Edmund MacMillan Jr.
Mosier, Ore.
February 16, 1953 - July 7, 2017
"Headin' down the road" was a common theme in Jim's original songs, but the metaphor became reality on July 7, 2017, when he was taken by aggressive, fast-moving cancer.
Jim, born James Edmund MacMillan Jr. to Jim Sr. and Vergie MacMillan, was born on Feb. 16, 1953, in Cincinnati, Ohio. He was the only son of four children. He grew up in Cincinnati and attended Harvard University, medical school at Ohio State University, and completed his medical residency in psychiatry at Oregon Health Sciences University.
Jim married Debbie Dobbs on July 2, 1978, and they shared a simple and meaningful 39th anniversary a few days before he died. Together they created a lovely homestead outside of Mosier, Ore., clearing the land, helping build the house, planting an expansive garden, and working side by side on their most gratifying project, raising their three children.
Jim is loved and survived by many, including his wife, Debbie Dobbs, his oldest son Cody MacMillan and his wife, Alex, and their children Guinness and Delilah; his daughter Ariel MacMillan; and youngest son Luke MacMillan. He is also survived by his mother, Vergie MacMillan, and sisters Floy Zittin (Dave), Karen Perez (Joe), and Gail MacMillan, as well as many cousins, nieces, nephews, and extended family.
Additionally, Jim leaves many friends across multiple communities. His life work as a small-town psychiatrist was diverse and fulfilling. He enjoyed the challenges of systems work and teaching and practicing at the Mid-Columbia Center for Living, as well as providing service in his private practice in The Dalles, Ore. After closing his private practice, Jim devoted his time exclusively to community mental health work as Medical Director at MCCFC. He was excited about recent expansion of services and working with wonderful teams of professionals.
Music was a lifelong passion of Jim's. His inspiration and artistic vision as a singer-songwriter brought him much joy. He looked forward to open mic sessions with other local musicians and playing with his trio at small venues. He especially found meaningful relationships at song camps, where camping, camaraderie, and original songs composed and sung around a campfire spoke to his soul.
Jim enjoyed singing with Voci Choir and served on the board and as president of the Columbia Gorge Orchestra Association for several years, during a time of great expansion. He enjoyed acting and singing in local productions of Jesus Christ Superstar and Putnam County Spelling Bee. He especially enjoyed contributing to his children's activities, whether it was 4H, musical productions, recitals, school and extracurricular activities or swim team. If help was needed, Jim would be there.
A recent artistic outlet for Jim was calligraphy. He collected wild turkey feathers around his property, crafted his own quills, and often used handmade paper made from grasses and plant materials found in the beautiful Mosier countryside just outside his home as backdrop for original haiku.
During the past two years, Jim began to practice yoga and appreciated the physical and meditative experience, as well as friendships in his "yoga tribe."
Jim's family would like to thank the many friends, old and new, who have been a part of his life, and would like to acknowledge the loving care he received from the medical and hospice community.
A celebration of Jim's life will be held on Saturday, August 12 at 10 a.m. at Jackson Park, Hood River (new location). In lieu of flowers, donations can be made to the James MacMillan Music Scholarship Fund through the Gorge Community Foundation (gorgecf.org/our-funds /designated-funds), or to the charity of your choice.
Services for James Edmund MacMillan Jr.
August 12, 2017

Celebration of Life: 10 a.m.
Jackson Park, Hood River (new location)