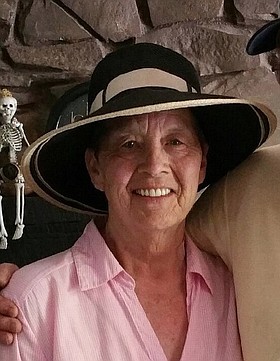 Jewel Sherrell
January 23, 1950 - July 11, 2017
Jewel Sherrell was born to Jack Short and Pearl (Caughran) Short on Jan. 23, 1950, in Albany, Ore. She was the youngest of seven. Jewel grew up in the Hood River Valley with her three brothers, Friday, Fred and Floyd, and three sisters, Freeda, Martha and Gilona.
She attended Wy'east High School, where she met her husband, Mick Sherrell. They were married in September 1967 and later had two children, Brian and Julie.
Jewel was always known for her love of flowers. This passion led to her career as a florist. She operated Bev's Flower Basket for over five years.
In her retired life, she was happy to enjoy the beautiful flora and fauna that the Gorge has to offer by going on several camping trips and nature walks. She often spent her early mornings with neighbors walking in her community of Oak Grove.
To her family, she has always been the foundation, the matriarch, and the rock. She offered advice and compassion to all when it was most needed. She will always be remembered for her wisdom, kindness, honesty and passion. She is deeply missed by all that truly knew her.
A viewing will be held at Anderson's Tribute Center in Hood River, Ore., on Saturday, July 22 from 9 a.m. to 5 p.m. A second viewing will be held at Anderson's Tribute Center on Monday, July 24 from 9-11:30 a.m. A graveside service will take place at Mt. View Cemetery, 1235 Tucker Road, Hood River, on Monday, July 24 at 1 p.m.
Arrangements are under the direction of Anderson's Tribute Center, 1401 Belmont Ave., Hood River. Please visit www.AndersonsTributeCenter.com to leave a note of condolence for family.
Services for Jewel Sherrell
July 22, 2017

Viewing: 9 a.m. to 5 p.m.
Anderson's Tribute Center

July 24, 2017

Funeral: 9 a.m. to 11:30 a.m.
Anderson's Tribute Center
Graveside service: 1 p.m.
Mt. View Cemetery, 1235 Tucker Road, Hood River