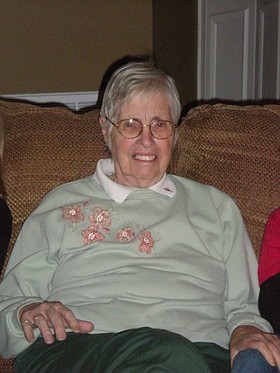 Nancy "Reeny" Maureen Hackman
Hood River, Ore.
December 20, 1931 - July 13, 2017
Nancy "Reeny" Maureen Hackman of Hood River passed away at the Hood River Care Center in Hood River, Ore., on July 13, 2017. She was born in Blue Island, Ill., on Dec. 20, 1931, to Charles and Mae Adams. She was raised with four other siblings: Robert "Bob" Adams, Betty Adams Arfstrom, Richard "Dick" Adams and Brian Adams. Reeny attended Arbor Park Grade School and graduated from Thorton High School in Illinois.
Reeny moved to San Jose, Calif., and married Edwin Everett Hackman, who was in the Navy, in July 1953. The two started their family in Norfolk, Va., where they had Edwin Everett Hackman Jr., "Hack," and twin boys Robert Dean Hackman, "Rob," and Richard Dale Hackman, "Rick." The family headed west again, where they ended up back in San Jose and welcomed their daughter Kipsy May Matthews. They eventually worked their way north to Redmond, Ore., and from there landed in Hood River in 1963, where they rooted themselves in the community.
Reeny work for and retired from United Telephone Company as an operator. She was very involved in the community and was an active member of the Hood River Elks Lodge, where she even became Elk of the year in 2006. She loved her fellow Elks and took being a member and friend very seriously. She would always be the designated driver on New Year's Eve, every New Year's Eve, no matter what. Her social life consisted of playing bingo, bunko, hearts, cribbage, and pinochle. She was immensely social and lived a full life.
Reeny was very involved with her people and just knew everything about everyone and probably more than that. She was a free spirit, spoke her mind often, and loved ferociously. Reeny had a deep appreciation for first responders and it was no secret that she loved her hugs from the police officers and firefighters who served the community. She would even bring the departments cookies around the holidays. She listened to her scanner constantly and was always the "all knowing."
She loved people watching from her porch and her game shows. When Jeopardy was on, no one in the room could even walk by the screen. Most of all she loved her family, children, grandchildren, and great-grandchildren. They are her legacy and she was always there for them. She was diligently in attendance for games, plays, sports, weddings, and births. She was a good mother, a loving grandma, and doting great grandma.
Reeny is survived by her brother Richard Adams, her children Edwin Everett Hackman Jr., Richard Dale Hackman, Robert Dean Hackman and Kipsy May Matthews, her grandchildren Nikki, Jason, Ryan, Jarrad, Katherine, Christina, Rebecca, Tiffany, Zack, Amber, and Maraiya, and 10 great grandchildren.
There will be a service in her honor and memory at 2 p.m. on July 22 at the Elks Lodge in Hood River, 304 Cascade Ave. Interment will be private at Mt. View Cemetery.
Donations in Reeny's honor can be made to the Hood River Police Department, The Hood River Fire Department or the West Side Fire Department. The family would like to thank the Hood River Care Center, Hawks Ridge, and Anderson's Tribute Center for their support.
Arrangements are under the direction of Anderson's Tribute Center (Funerals • Receptions • Cremations), 1401 Belmont Ave., Hood River.
Visit www. AndersonsTributeCenter.com to leave a note of condolence for the family.
Services for Nancy Maureen Hackman
July 22, 2017

Memorial service: 2 p.m.
Elks Lodge, Hood River