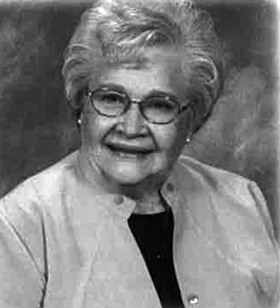 Elda Marie Small McMillian
Beaverton, Ore.
April 23, 1928 - July 2, 2017
Elda Marie Small McMillian passed away from pancreatic cancer July 2, 2017. Her children, Brad McMillan and Kathy Loebe, held her hands as she left this world.
Elda Marie Small was born in Portland, Ore., on April 23, 1928, to William Bradley Small and Sally Aldine Small. She had a brother, Bobby, who was eight years her senior. When she was 2, the family moved to Hood River, where she spent her childhood. Marie loved having cousins and family close by and spent many an hour playing in the orchards and enjoying the beauty of the Gorge. She also loved music and played the piano and string base.
In 1946, Marie went off to Lewis & Clark College, where she earned a BA in music. While there, she met and married Richard "Dick" McMillan in 1949. Upon graduation, the couple moved to Cleveland, where Dick taught biology and chemistry and Marie worked as a librarian at a high school. Oregon called them back in 1956, and they began their family in 1958, when daughter Kathy was born. Son Brad followed in 1961.
Marie was a loving mother and enjoyed her time raising her kids. She was a member of PEO Chapter PT for over 65 years, sang in the church choir and the Carillon Singers group, was a deacon and active member at Calvin Presbyterian Church, was a member of a book club, bridge club, exercise group and much more. Marie moved a few times, but loved her homes on Bull Mountain and Summerfield in Tigard. She recently lived at the retirement community of Creekside Village in Beaverton. She made lifelong friends easily and really enjoyed her connections with people.
Marie was preceded n death by her husband, Dick, in 1979. Her family and extensive group of friends kept her busy and feeling loved over the years.
Marie is survived by her daughter Kathy Loebe and husband Lee, of North Plains, son Brad McMillan and wife Juliette of Lake Oswego, and her precious grandchildren Liz, Megan, Jake, Shannon and Ian.
Marie requested that any donations be made to the O.S.C. PEO Sisterhood Charitable Trust. Please indicate "Marguerite Scholarship Fund." Checks can be mailed c/o Tiffany Pena at 13003 SW 154th Ave., Tigard, OR 97223.