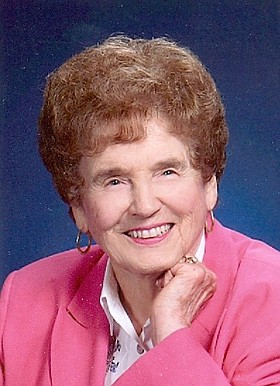 Dorothy Akin
Hood River, Ore.
February 12, 1924 - July 27, 2017
Dorothy Akin passed away on July 27, 2017, at Brookside Manor in Hood River, Ore., surrounded by her family. She was born Feb. 12, 1924, and was 93 years of age at the time of her passing. Dorothy is now in Heaven with Frank Sr.. who preceded her in death in 2003. Dorothy's son, Frank Jr. (and his wife, Sheryl) owned and operated Anderson's Tribute Center for many years.
Dorothy was born in Maxwell, Calif., to Dr. George and Sarah (Stone) Harrison. She moved to Portland, Ore., when she was 3. During the Great Depression, the family was forced to move to the Gresham area.
Dorothy attended Orient Grade School and graduated from Gresham High School in 1942. She always enjoyed being in school programs. She had the leading part in the eighth-grade musical and the lead in the senior class play. She was on the debate team, was speaker for the junior-senior banquet, president of the Home Economics Club, and served on the student council. She was also active in 4-H and won the Grange Scholarship for 4-H summer school.
Dorothy worked as a secretary at the Troutdale Aluminum Plant before attending O.S.C. for a brief time. Nurses were badly needed, so she became a cadet nurse at Portland Providence Hospital during the war and she loved it.
She married her sweetheart, Frank Akin, on June 8, 1946, after he returned from WWII. They lived in Gresham and had three children: Sarah, Mary Kay, and Frank Jr. Dorothy was an active member of P.E.O., but her church was where her talents were put into play. Her husband and she were longtime members of the wonderful group called the Fairview Mariners.
The family moved to Brookings, Ore., in 1958, where they had purchased a Ford dealership. Dorothy appreciated being able to be a stay-at-home mother. She was always active in her church and community. She was chairman of the Brookings Christian Women's Club for two years.
Dorothy had a passion for writing and producing skits and programs for her church mostly. She shared her button and doll collection by showing them to various groups. She was a people person, and really enjoyed entertaining, gardening, playing cards, restoring old furniture, making button bracelets, and writing poetry as some of her hobbies.
Her family and friends were special to her. When the "empty nest" time came, she and her husband traveled a lot with friends and family in their motor home throughout the country. Dorothy and Frank also traveled to parts of Europe. She went elk hunting with her husband and good friends the Grady's for 27 years. After the children were raised, Frank Sr. announced to his hunting buddies that he would no longer go hunting with them. He said, "From now on, I'm taking Dorothy. She looks better, smells better, and cooks better!"
Dorothy and Frank moved to Hood River, Ore., in 1989. After her husband's death in 2003, her last years were spent living at Down Manor and Brookside Manor, where she enjoyed many new friends.
She is survived by her daughter, Mary Kay Taylor of Seaside, Ore., son, Frank Akin Jr. and his wife Sheryl of Hood River, and son-in-law Dave Hansen of Clatskanie, Ore.; four granddaughters, Kerri Wright, Heidi Engen, Charity Delmore, and Adrienne Akin; two grandsons, Todd Slack and Jesse Taylor; and 10 great grandchildren and three great great grandchildren. She had never known what it was like to have grandparents, so she really loved being a grandmother. She is also survived by numerous nieces and nephews, and Mel Sandholm and Debbie Taylor. Dorothy was preceded in death by her husband, Frank Akin, and daughter Sarah Hansen.
A celebration of Dorothy's life will be at 4 p.m. on Friday, Aug. 4 with a reception following at Anderson's Tribute Center, 1401 Belmont Ave., Hood River. Private entombment at Idlewilde Mausoleum will follow later.
The family would like to offer a time of visitation (where you can visit with family and view) from 5-7 p.m. on Thursday, Aug. 3 at Anderson's.
Memorials are encouraged to be made to Brookside Manor Foundation, Hospice of the Gorge or the CMT Association and sent care of Anderson's.
Visit www. AndersonsTributeCenter.com to leave a note of condolence for the family.
Services for Dorothy Akin
August 3, 2017

Viewing: 5 p.m. to 7 p.m.
Anderson's Tribute Center, 1401 Belmont Ave., Hood River

August 4, 2017

Celebration of Life: 4 p.m.
Anderson's Tribute Center, 1401 Belmont Ave., Hood River