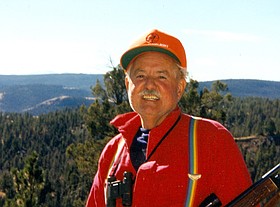 Gary Walter Thelen
August 28, 1933 - May 10, 2017
Gary Walter Thelen passed away in his vacation home in Hood River, Ore., on May 10, 2017.
He was born in Hood River on Aug. 28, 1933, to Alice Nancy (Ketchison) and Grant Morgan Thelen. Gary grew up in the Hood River Valley, attending Barrett Elementary School and Hood River High School, graduating in 1952.
After attending Oregon State University for one year, Gary enrolled in the U.S. Air Force and trained as a pilot on the KC-135, refueling jets in mid-air. After 13 years in the Air Force, Gary resigned when his enlistment was up and went to work for Trans World Airlines, from which he retired in 1994.
Gary met his future wife Lois in high school and from then on, she was the love of his life. Gary and Lois were wed here in Hood River. Shortly after being wed, he was transferred to Dow Air Force base in Bangor, Maine. Gary had two children, a daughter, Lorie Susanne (Saito) on April 11, 1958, in Bangor, and a son, Mark Grant, on Aug. 1, 1960, in Topeka, Kan.
After retiring from TWA, Gary and Lois traveled to Australia, Africa, Panama, Denmark, Cabo San Lucas, and the Caribbean with high school friends. He and Lois also enjoyed traveling the United States via RV with other friends and family. Gary was an avid storyteller and would entertain friends and family with stories from his childhood, work, and travels.
Gary is survived by his wife Lois of Sacramento, Calif., daughter Lorie of Hood River, and son Mark of Brown's Valley, Calif., his brothers Boyce and Kurt, and his grandchildren Alyssa and Branden.
A memorial service is planned for 2 p.m. on Aug. 26 at Anderson's Tribute Center (Funerals • Receptions • Cremations), 1401 Belmont Ave., Hood River. Gary will be interred in Idlewilde Cemetery on Aug. 26 after the memorial. Visit www.AndersonsTributeCenter.com to leave a note of condolence for the family.
Services for Gary Walter Thelen
August 26, 2017

Memorial service: 2 p.m.
Anderson's Tribute Center