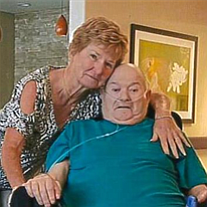 Larry Jean Scott
Yakima, Wash.
August 22, 1941 - July 16, 2017
Larry Jean Scott was born Aug. 22, 1941, in Portland, Ore., to Jean and Vera Scott. He lived most of his life in Hood River County. He passed away July 16, 2017, in Yakima, Wash.
Larry attended school in Hood River, Ore., and Elma, Wash. He worked in the Dee Mill for 38 years, Parkdale Packing Shed and the Elma area in hay fields.
Larry was preceded in death by his parents, George and Vera Prante, grandparents Wilbur and Edith Prante and great grandparents Albert and Augusta Leasure, uncles Bob and Glenn (Skinny) Cosgrove, brothers Albert and Ronald Prante.
Larry is survived by his lifelong love, Sheri Tremblay of Arizona, sons Lincoln Scott of The Dalles, Ore., and Cameron Scott of Dee, grandsons Justin, Jarrett and CJ Scott and granddaughter Heather Scott, all of Oregon, brother Ronald Scott of California, sisters Marla Prante of Yakima, Deanna Molina of The Dalles, and Marsha K. Taylor of Gresham, Ore., nephew Clinton Prante of North Carolina, niece Charis Prante of Yakima, and great nieces Kerstin Prante of North Carolina and Brooklynn Prante of Yakima.
Larry enjoyed an old pickup truck on a logging road, leaving a cloud of dust behind, fishing on the Columbia River and hunting in the hills of Hood River County. He loved to play his guitar and sing in his younger years. He played basketball in Elma and was very good on his team.
Larry loved life and talking to people. His nephew, Clinton Prante, flew out to be with his Uncle Larry and they shared many memories along with Charis, Brooklynn and Marla Prante.
Larry was grateful to all who helped him over time. A great big thank you to Ryan Siebol for the extra hand getting him home in his time of need.
Many thanks for the nursing homes DaVita, Cottage in the Meadow and Lion's Club of Naches. Larry fought very hard with diabetes, blindness and dialysis. No funeral services will be held, but a headstone will be laid with his mother in his memory at Parkdale Upper Valley Cemetery. Arrangements are under the direction of Valley Hills Funeral Home, Yakima.