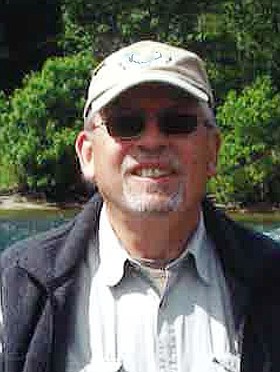 David Wayne Dinsmoor
Riverside, Calif.
August 27, 1941 - March 16, 2017
David Wayne Dinsmoor passed away on March 16, 2017, in Riverside, Calif. He was the second child born on Aug. 27, 1941, in Bell, Calif., to Harold and Marian Walther Dinsmoor.
He was 2 when the family moved to the Oak Grove community in Hood River, which was his father's home town. They moved back so Harold could help with the family farm. He attended Oak Grove Elementary, Mid Valley Junior High and Wy'east High School, where he graduated in 1959. The football team of 1958 was inducted into the Hood River Valley High School "Hall of Fame." He loved his high school years and kept very close to his classmates. His close friends all had nicknames, and his was "Blackie." Even though he didn't live in Hood River, he always made time to come and visit his family, spend time with friends and attend his class reunions.
After high school, he spent a term at the University of Oregon and then went to San Fernando, Calif., to live with his aunt and continue his education. Soon after, he got a part time job at Lockheed Air Cooperation in Burbank, where he started at the bottom and worked his way to the top. He worked and went to school, graduating from Los Angeles Pierce College with a degree in business administration and management. While at Lockheed, he joined the National Guard. During the Vietnam War, he was sent with his unit to serve in the Army. Since he was working for Lockheed, they couldn't send him to Vietnam with his unit, and he was stationed at Fort Lewis in Washington until 1969. He was a Staff Sergeant acting as a Non-Commissioned Officer.
When Lockheed joined Martin Marietta, he moved to Atlanta, Ga. David worked on many government contracts. He earned many awards at Lockheed and Lockheed/Martin. He volunteered many hours through Lockheed to different charity events in Burbank and Atlanta. He was a good friend of Bobby Cox and his wife Pam of the Atlanta Braves. He helped with the Bell South Golf Tournaments in Augusta, Ga. He loved playing golf. He had many friends in Burbank and Atlanta. His favorite hangout in Atlanta was Houck's, where he spent hours socializing with friends. Allen, one of his friends, nicknamed him "Dussel" and that became his name with his Atlanta friends. He loved the Oregon Ducks and you never called to talk to him during a game.
In 2005, he moved to Newport, Ore., to be closer to family after his father passed away. While in Newport, he was a member of The South Beach Church, the Fishing Club, volunteer police and the Elks Club. He joined the Elks in San Fernando when he was 21 and stayed a member until his death. Everywhere he moved to, he transferred his membership. David loved working with the handicapped adults at Shangri-La. He was sad when he couldn't continue there because of his cancer. In 2016, he moved to California to live in the sun next door to a longtime friend, who lived on a golf course. He could sit out on his patio and watch the golfers play. He was able to play a few times last year.
David is survived by his sister, Leslie Melby (Reed), brother Larry Dinsmoor and close cousin Kay Simon (Ed). He had two nieces, four nephews, great nieces and nephews and a great great niece and nephew. His nephew Michael Anderson (Heidi) and Danielle Frank (Phil) were very close to him.
He was preceded in death by his parents, brother-in-law Jan Anderson, his dog Bailey and his cat Minni Pearl.
He will be interned at Willamette National Cemetery on July 14 with military honors. A celebration of life will be held on July 14 at the Hood River Elks at 2:30 p.m. A celebration of life will also be held at the Newport Elks Club on July 16 at 4:30 p.m. Donations in David's name can be made to the Newport Volunteer Police, The Newport Fishing Club, Shangri-La in Newport or St. Jude's Children's Hospital.

Services for David Wayne Dinsmoor
July 14, 2017

Celebration of Life: 2:30 p.m.
Hood River Elks