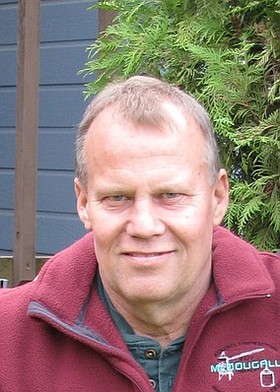 Scott Zorza
February 16, 1960 - May 23, 2017
Scott Zorza passed away on May 23, 2017, at his home with his family by his side after a six-year battle with colon cancer.
Scott was born Feb. 16, 1960, to Kenneth and Angeline Zorza in Hood River; he was 57.
Scott attended school in Hood River and married his wife, Kathy Van Metre, on Jan. 12, 1979. Scott worked as general superintendent of Natt McDougall Co. in Tualatin, Ore. Scott spent his entire work career, from high school to just the last few weeks, as a heavy construction supervisor on major projects throughout the Pacific Northwest that included dams, pumping plants, pipelines, fish facilities, and major marine installations.
As an operator of heavy equipment, he was second to none. His range of skills included excavation, shoring, piling, dewatering, diving, caisson sinking, rigging, assembly of complex marine elements, and major demolition undertakings. As a supervisor, he was an innovative, energetic, tireless and indefatigable presence who lived and breathed his work and was constantly trying to find a better way to get things done, no matter how difficult. He loved his work. He was best in difficult situations. Whether it was removing Elk Creek Dam in Southern Oregon, refloating sunken World War II ships in Newport for a new Ocean Terminal, launching major floating facilities at Baker Dam in Washington, or building the spillway at Middle Fork Dam in Parkdale, Scott left his indelible mark on numerous high-risk jobs that received national attention during his career.
His greatest quality, however, was his leadership. He could come up with schemes that others thought couldn't be done and executed them time and again. He never asked anyone to do something he couldn't do himself. He was hard working and aggressive, a take charge person who took responsibility to get things done. His never say die, can do, day at a time attitude got many projects to the finish line when the odds were against it. He was a most savvy construction person, the absolute best in his field. Scott will be sorely missed by those who worked with him.
Scott loved spending his off time with his sons and grandsons in the outdoors, hunting, packing, fishing, snowmobiling, and working on projects together. He spent as much time as possible at the family cabin in eastern Oregon.
Scott is survived by his wife Kathy; sons Keith (Danielle) and Kevin (Amber); and grandsons Braden and Kyler.
He is also survived by three brothers, Larry, Steve and Dubber; and many nieces, nephews and extended family. Scott was preceded in death by daughter, Tracy, father Ken, mother Angie, brother Ron and sister Pamela.
A celebration of life for Scott will be held at 3 p.m., Saturday, June 10 at the Rockford Grange Hall, 4250 Barrett Drive, Hood River.
In lieu of flowers, donations can be made to the American Cancer Society or Heart of Hospice.
Arrangements are under the direction of Anderson's Tribute Center, 1401 Belmont Ave., Hood River. Visit www.AndersonsTributeCenter.com to leave a note of condolence for the family.
Services for Scott Zorza
June 10, 2017

Celebration of Life: 3 p.m.
Rockford Grange Hall, 4250 Barrett Drive, Hood River