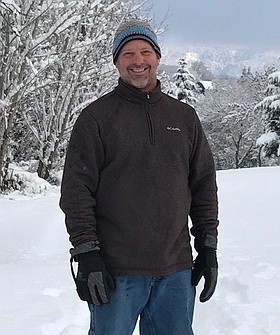 Rod Olmstead
Hood River, Ore.
February 6, 1967 - May 15, 2017
Rod Olmstead passed away Monday, May 15, 2017, while vacationing with his family in Hawaii. Rod was born Feb. 6, 1967, in Spokane, Wash., to Don and Dee Olmstead. He was 50.
He attended high school in Sugarland, Texas, and attended Texas Tech University, where he met his wife, Tracy Reiter Olmstead. They married Dec. 18, 1987.
Rod was a masonry contractor in Houston, Texas, before moving to Hood River, Ore., in 1994. He has been working as a contractor in the Pacific Northwest ever since. You can see his fingerprints all over the area in the many projects he worked on individually and also with his dad and brothers — Indian Creek Golf Course, Stonehenge Gardens and the waterfall downtown are just a few of the many projects he worked on in addition to the countless backyards around Hood River.
Rod lived many places while growing up. Kalispell, Mont., was his favorite. It was the years he spent there that shaped who he was. He would tell stories about his adventures in the woods with his brothers and sisters. He also loved fishing and spending time with his grandparents.
Rod loved being outdoors. He loved camping, hunting, hiking and fishing with his family and friends. He also loved what he referred to as "wineking," hiking that ended with a glass of wine at one of his favorite wineries. He was always up for an adventure and rarely said no to any opportunity for fun. Two of his favorite fishing spots were the Metolius River and Deschutes River. He also loved to cook for family and friends. His specialties were smoking and barbequing meats.
Rod also had a deep love for his family. They were the most important thing to him. He instilled in them his love for nature and adventure, along with the legacy of a deep family connection. He created a beautiful family filled with traditions, laughter, love and many happy memories. He loved with his whole heart. He will be deeply missed.
Rod is survived by his wife Tracy, sons Zachary and Aidan, and his dog Scout.
He is also survived by his parents, Don and Dee Olmstead, sister Ronda, brothers and their wives Rick and Angie, and Randy and Billie Jean, and many nieces, nephews and extended family. Rod was preceded in death by his sister Becky.
A time to honor and celebrate Rod's life will be held at Springhouse Cellars on Friday, June 23 from 3-5 p.m.
Services for Rod Olmstead
June 23, 2017

Celebration of Life: 3 p.m. to 5 p.m.
Springhouse Cellars