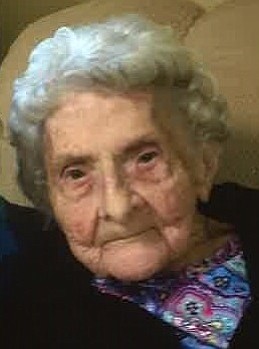 Louanna Marie Flint
The Dalles, Ore.
July 4, 1921 - June 4, 2017
Louanna Marie Flint passed away on June 4, 2017, at The Springs at Mill Creek. Louanna Marie Grossmiller was born on July 4, 1921, in Beavercreek, Ore., to Frank and Mary Louise (Mayfield) Grossmiller. At the age of 3, the family, including her brothers Kenneth and George, moved to The Dalles. Louanna attended Court Street School and graduated from The Dalles High School in 1939. After graduation, she went to work as a teller for U.S. Bank.
In 1941, Louanna met a Hood River young man named Robert Vern Flint, who happened to work as a teller for First National Bank in Hood River. They married on May 24, 1942, at The Dalles Congregational Church. On Jan. 21, 1944, their first child, Robert Douglas, was born. Two years later, their twin girls, Dianne Louise and Doreen Myrtle, were born on July 28, 1946.
Louanna began working as a cook for Hood River Schools in 1951 at Coe Primary School, then at May Street School. She was involved in her children's activities, whether it be sports, Cub Scouts, Campfire or church youth group. She was also a member of Beta Sigma Phi. As Bob became active in the Elks Club, going through the chairs to Exalted Ruler, they enjoyed many trips to National Elks events. Bob was diagnosed with a non-malignant brain tumor in 1966. After several operations and radiation treatments, Louanna lovingly cared for him until his passing in 1980. She continued to cook at May Street School until she was 78 years old. However, after retiring, she decided to return to the school office as a volunteer two days a week. Miss Lou (as the kids called her) loved helping students and having candy for the teachers in her drawer. She was also very proud that she was given her driver's license for eight more years at 93.
She was preceded by her husband Bob, parents and brothers, and special sister-in-law Eva Windham. She is survived by her children, Doug (Edie) Flint, Dianne (John) Kerr, and Doreen Flint, her grandchildren Nancy, Jeffery and Amy Flint, Joshua and Andrew Kerr, and Brett and Ryan Pearson, great grandchildren Caitlynne Reyes, Camden, Eden, London and Irelyn Kerr, Nautis and Finley Kerr, and Kole, Bailey and Levi Pearson, and great great grandchildren Maggie, Mya, Jaydon and Eyden Reyes.
A private internment with family was held at Idlewilde Cemetery.
Memorials may be made to the May Street School building fun, with designation to be used for the kitchenette.