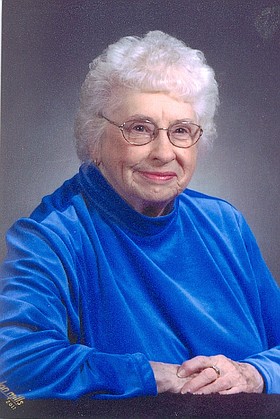 Zelda Marie Crump Stanton
Hood River, Ore.
May 13, 1923 - June 12, 2017
Zelda Marie Crump Stanton passed away June 12, 2017, at her home in Hood River, Ore., surrounded by family and friends. She passed as she wanted — peacefully, beautifully and with dignity. Zelda was born May 13, 1923, in Hood River, and was 94 years of age at the time of her passing.
Zelda and her sister Genevieve Crump Lingren were the children of Bruce and Verlie (Douglas) Crump. She spent most of her life in Hood River and was a true Hood Riverite, attending local schools Coe Primary, Park Street, May Street Junior High and Hood River High School. In 1947, she graduated cum laude with a BS in nursing from the University of Portland.
She married Jules Clark Stanton on Oct. 29, 1949, and spent 47 years together before his passing in 1996. They had two children: Nanette Idzerda and Bruce Stanton.
Zelda's work history and spiritual history were centered in the Hood River area. She worked for Anderson's Ice Cream shop as a youth and then Hood River Medical Group, and ultimately Hood River Memorial Hospital, where she was promoted to supervisor of the medical/surgical department. As a child, she attended Asbury Methodist Church and then First Christian/Valley Christian, where she taught kindergarten Sunday school. She returned to Asbury Methodist Church and then moved to Asbury Methodist/Our Redeemer Lutheran when the two combined (now known as Spirit of Grace).
Upon retirement, Zelda traveled the United States via RV, going to Steens Mountain for hunting and fishing and the Oregon Coast for salmon fishing. She loved knitting Christmas stockings, of which 700-plus found homes in over 42 states! She also enjoyed fellowshipping with the Happy Hands ladies and spending time with her grandchildren and great grandchildren.
Zelda was preceded in death by her parents, Bruce and Verlie Crump (1952), her husband Jules Clark Stanton (1996), and her sister Genevieve Crump Lingren (1997). She is survived by her children Nanette Idzerda of Portland, Ore., and Bruce Stanton of Hood River, grandchildren Shannon McBride of Redmond, Ore., Nathan Stanton (Brandy) of Hood River, Sybil Hernandez (Dominic) of Portland, and Nicholas Stanton (Carolyn) of Aloha, Ore., great grandchildren Matthew, Trevor, Brennan and Aaron McBride of Redmond, Bryce and Alyssa Stanton of Hood River, DJ, Evan and Julian Hernandez of Portland, and Kyla Stanton of Aloha, and numerous nieces and nephews.
A memorial service will be held at 2 p.m. on Saturday, June 24 at Spirit of Grace, 1140 Tucker Road, Hood River, with a reception to follow. Interment will be at Idlewilde Cemetery at a later date.
In lieu of flowers, memorial donations in Zelda's name can be made to Spirit of Grace Memorial Building Fund, 1140 Tucker Road, Hood River, OR 97031, or Providence Hospice of the Gorge, 1630 Woods Court, Hood River, OR 97031.
The family would like to give special thanks to Providence Hospice of the Gorge caregivers Terri, Tina and Debbie, all her day/evening caregivers and to all family and friends, including Zelda's church family, who have provided support.
"God be with you until we meet again." — Zelda Stanton.
Arrangements are under the direction of Anderson's Tribute Center (Funerals • Receptions • Cremations), 1401 Belmont Ave., Hood River. Visit www. AndersonsTributeCenter.com to leave a note of condolence for the family.
Services for Zelda Marie Crump Stanton
June 24, 2017

Funeral: 2 p.m.
Spirit of Grace, 1140 Tucker Road, Hood River