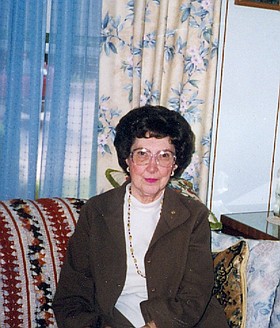 Elaine G. Woolston
Hood River, Ore.
January 5, 1930 - June 16, 2017
Elaine G. Woolston passed away on June 16, 2017. Elaine was born on Jan. 5, 1930, in Uintah, Utah, to Frances and Geneva Woolston.
They lived on Koberg's Beach during the early 1930s, where her father managed the amusement park and dance hall. She loved Koberg's Beach for the activities and the beauty of the area, which was later destroyed when the dam was built. Her father later became the police chief of Hood River. The family moved to her current residence, where she lived for 80 years.
Elaine attended Hood River High School and was student body treasurer. It was said that she had the books "balanced to the penny." During her school age years, she worked at an ice cream and sandwich shop. She graduated from high school in 1948 and then attended BYU for one year, as she wanted to be a teacher. After one year at the "Y" and not getting the classes she wanted, she came back to Hood River and worked for the City of Hood River for 12 years. Her next job was with Sprint, where she worked for approximately 23 years until she retired.
Elaine loved meeting people, traveling, gardening, cooking, and taking walks in the warm summer evenings. She also enjoyed spending time with friends and family. Elaine was an active member of the Church of Jesus Christ of Latter-day Saints. She was well liked and loved by numerous people who have known her for many years. She was known for her spunky personality and quirky wit. She loved to eat good food and was particularly fond of Honey Baked Ham and Helen Bernhard's German chocolate cake.
Although she never married, her life was full. She was very involved with her nephews, niece, and extended family, and took great interest in them.
Elaine is survived by her nephew Rick Scoggin (his wife, Mie) of Gresham, Ore., and their two children, Sean and Greg Scoggin (Greg's wife Kara and their two children, Elizabeth and Hannah), nephew Craig Scoggin (his wife Krista and their three children, Ashley, Justin and Kyra), niece LaRee Thornton (her husband, Steve) of Reedsport, Ore., and their daughter Sharlee (her husband Casey and their four children, Andy, Kaitlyn, Cody, and Ryan) of Atlanta, Ga., and two great great nephews, Scott (his two boys Lucius and Keirun) of Portland, Ore., and Brian (his wife, Stacey and their four children, Tyler, Ashton, Mackenzie, and Bailey) of Reedsport, Darin (his wife, Jessica and their three children, Mya, MacKenzie, and Cole) of Boise, Idaho, Greg (his wife Darci and their two children, Jayce and Jaelee) of Boise, great nephew Braydon Thornton, of Florence, Ore., Jenelle (and her son, Elijah) of Cloverdale, Utah, and Ruth Brown (cousin's wife and best friend), and her sons Jim Brown and Jerry Brown.
A viewing will be held at 1 p.m. on Saturday, June 24 and a service at 2 p.m., followed by a reception at The Church of Jesus Christ of Latter-day Saints, 1825 May St., Hood River. Interment will be at Idlewilde Cemetery, 980 Tucker Road, Hood River.
Arrangement are under the direction of Anderson's Tribute Center (Funerals • Receptions • Cremations), 1401 Belmont Ave., Hood River. Visit www. AndersonsTributeCenter.com to leave a note of condolence for the family and for updated service information.
Services for Elaine G. Woolston
June 24, 2017

Viewing: 2 p.m.
The Church of Jesus Christ of Latter-day Saints, 1825 May St., Hood River