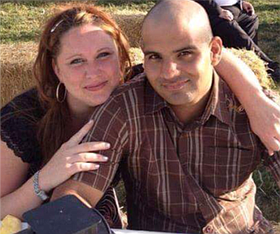 Daniel Guzman
Gresham, Ore.
July 15, 1975 - June 16, 2017
Daniel Guzman passed away on June 16, 2017, in Gresham, Ore. He was born July 15, 1975 in Gardenia, Calif., to Trinidad Guzman Guzman and Margarita Guzman Gutierrez, and was 41 years old. Daniel graduated from Hood River Valley High School in 1994 and then attended Wyoming Tech for auto body and paint for one year before graduating from Mt. Hood Community College in 2001 for welding.
Daniel is survived by the love of his life, his son Jon; father Trinidad, mother Margarita, sister Angelica, brothers Andres, Jose, Ernesto, and Martin; half-sister Maria, nephews James, Chris, Aaron, Henry, Antonio, Eric and Adrian; and nieces Alejandra, Aleida, Andrea, Zaya, Sienna, Karen, and Carina.
Daniel was a big ball of goofy, loving energy. If he made eye contact with you, you'd soon know enough about each other to be friends for life. He loved working on cars, the old classics, fishing, and spontaneous trips. He could never plan anything because it wouldn't happen — he had to fly by the seat of his pants. Daniel loved to make people laugh; if he could make your day by making you laugh, he felt his job was complete. He could tell a story in FULL detail like no other. If he was telling you a story, he'd throw in the most random irrelevant little things, like a bluebird flew by, just to make the story more exciting.
Anytime he was on his way to pick up his son, he got really excited about it. He was always so proud about how Jon was doing in school. He always talked about getting to teach his son how to drive.
Daniel was a charmer starting at a young age, he could convince you of anything. Thirteen-year-old Daniel and Jose went down to Safeway and Daniel said, "Jose, watch this, I'm going to convince that elderly couple that I know them." He soon realized that they just moved here from Florida; he liked the challenge because it was going to be harder to complete. He would ask a question in such a way that he was trying in such a way that he was trying to remember, and when they would answer he'd say, "Yeah yeah yeah, it's coming back to me now." He had that goofy, happy-go-lucky personality that made people want to talk to him anyway. He was trying to convince them that he helped paint their house. By that point he had enough detail from them that when the old lady said to her husband, "This is absurd, we don't know him…" She said to Daniel, "Then young man, what color was the house?" "Grey with white trim." When he answered correctly, she was sold.
He could be three hours late to anywhere and justify it by saying, "It's not my fault, someone started talking to me and I couldn't just be rude and walk away."
A memorial service will be held on Sunday, June 25 at 11 a.m. at Anderson's Tribute Center. Officiating the service will be Jim Tomson, with a reception immediately following.
In closing, remember Daniel with his own words…
"I love good food, love the classic cars, colors that life lets us see and all the friends that are still around and every day we have left on this crazy earth and the kids that make life fun."
Arrangements are under the direction of Anderson's Tribute Center (Funerals • Receptions • Cremations), 1401 Belmont Ave., Hood River. Visit www.AndersonsTributeCenter.com to leave a note of condolence for the family.
Services Location
Anderson's Tribute Center
1401 Belmont Ave. Hood River, OR 97031
541-386-1000
Fax 541-386-7380