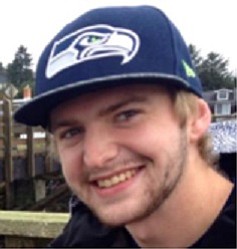 Jason Michael DeGeus
November 3, 1991 - June 18, 2017
Jason Michael DeGeus was born Nov. 3, 1991, in Hood River, Ore. He died June 18, 2017, as the result of a tragic automobile accident near Mosier, Ore.
Jason was raised in Odell, where he attended Mid Valley Elementary and Wy'east Middle School, and graduated from Hood River Valley High school in 2010. He attended Columbia Gorge Community College and earned a two-year degree in the Wind Energy program, where he worked as technician for GE in Arlington, Ore. During his early years in school, he was involved in Cub Scouts, Boy Scouts, Little League baseball and always participated in Community Ed basketball and soccer programs. He was involved in 4-H for seven years, where he raised goats, pigs, and turkeys. His love for the outdoors started a very young age as he hunted deer and elk with his dad and got his first bull elk on his 21st birthday.
He worked at Orchard Lanes for six years because of his love for bowling. He participated in many tournaments and was a member of the 300 Club. He loved anything that involved the outdoors, from golfing, disc golf, snowboarding, fishing, hiking, hunting, and morel mushrooms hunting to camping, and he loved to garden — he had the biggest green thumb. Just in the last few years, he became a rock hound and couldn't wait to share his lasted find. But his No. 1 passion was his motocross. He lived to ride. If he wasn't riding, he would watch it on TV or play it on his Xbox. He raced competitively in the Classic 7 series at the Washougal MX Park and was a member of the AMA and has No. 972 sanctioned.
He was a huge fan of the Chicago Cubs and the Seattle Seahawks, and was beyond happy when the Cubs won the World Series last year, and the Seahawks won the Super Bowl a few years back. He left an impression on everyone he came in contact with, lived life to the fullest and accomplished a lot in just 25 short years. He was an amazing son, brother, nephew, uncle and friend to many people. He left a big mark on this world and will be missed terrible by all who loved him. "May His Laughter Always Be Louder than the Braps of a 450, and May We Never Ride Faster than He Can Fly."
He is survived by his mother, Cindy DeGeus of Hood River, father Doug DeGeus (Barb) of The Dalles, Ore., sister Ashley DeGeus (Chase Wendel), niece Shyla Wendel, nephew Danner Wendel of Prineville, Ore., grandmother Erma Conder of Des Moines, Iowa, and many aunts, uncles and cousins. He was preceded in death by grandparents Harold and Jeannie DeGeus, and grandfather Ronald Conder.
A celebration of life will be at 4 p.m. on Saturday, July 29 at 3901 Neal Creek Road, Hood River (take exit 64 from I-84, go seven and a half miles up Highway 35, turn left onto Neal Creek Road for a about mile and it will be on the left). In lieu of flowers, donations can be made to the diabetes association.
Arrangements are under the direction of Anderson's Tribute Center • Celilo Chapel, 204 E. Fourth St., The Dalles. Visit www.AndersonsTributeCen-ter.com to leave a note of condolence for the family.
Services for Jason Michael DeGeus
July 29, 2017

Celebration of Life: 4 p.m.
3901 Neal Creek Road, Hood River (take exit 64 from I-84, go seven and a half miles up Highway 35, turn left onto Neal Creek Road for a about mile and it will be on the left)