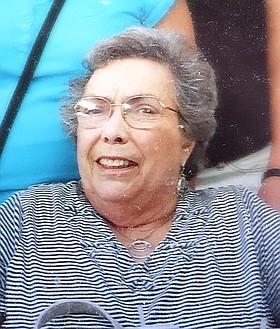 Clara Gean Robison Nebeker
Hood River, Ore.
April 21, 1930 - March 5, 2017
Clara Gean Robison Nebeker passed away on March 5, 2017, in Hood River, Ore., at the age of 86. She is greatly loved and missed by Bryson Nebeker, her husband of 61 years, and by their many family and friends.
Gean was born April 21, 1930, in New Plymouth, Idaho, to Jay Passey Robison and Grace Lerwill Robison. It was with great joy that Jay and Grace welcomed their new daughter into their family, for prior to her birth they had experienced the heartache of losing their first child to death, a two-month old daughter named Grace. Gean's birth brought new happiness to their lives. They moved to the nearby town of Emmett, where in 1932 they were joined by a son, Jay Lee. The young family of four knew the hard work of farming throughout their growing years. Their father, Jay, worked to cultivate property into productive farmland that had previously been undeveloped.
At that time, while in New Plymouth, the family faced a tragic accident, when two-year-old Gean was kicked in the head by an errant horse. The blow severely cracked her skull, and she lay in a coma near death for days. Her parents feared also losing this child. By a miracle, she awoke from the coma, and went on to live a fully productive life. Gean and her brother attended schools in both New Plymouth and Emmett. In time the family bought 160 acres in New Plymouth, where they built a house and developed the land into farming. In 1945, tragedy struck again when their father, Jay, met with an accident in which he was caught by haying equipment and was pulled into its blades. The machinery sliced off one leg at the mid-thigh and half of his other foot. Again by miracle, his life was spared. After recovering, he walked with a wooden leg for the rest of his life. However, the accident ended his farming career. After Gean and Jay Lee both graduated from high school, Jay and Grace bought a shoe repair shop, and they moved their newly acquired business to Baker (now Baker City), Ore.
Gean attended the University of Idaho in Moscow, Idaho, for a time and then transferred to a Boise business school, where she also worked for the John Deere Company for awhile. It was while staying with her parents in Baker that she met Bryson DeVear Nebeker. They married on Oct. 28, 1955. Bryson had served in both the army during WWII and the air force during the Korean Conflict, and was now back in Baker where he had grown up.
Soon after their marriage, they moved to Hood River, Ore., in January of 1956. Bryson worked as a general manager of the Mt. Hood Railroad (and later for the Union Pacific Railroad after it acquired the railroad line). In Hood River, Bryson and Gean were joined by four children: Terri Gean in 1956, Sandra Kaye in 1958, Steven Jay in 1960, and Edwin DeVear in 1962.
Gean was a devout Christian and an active member of the Church of Jesus Christ of Latter-Day Saints. She served faithfully in various capacities throughout her life in the Primary children's organization and with genealogy and family history. She enjoyed sewing and needlework and owned a fabric shop in the 1960s/1970s.
In her profession, Gean worked for the Hood River County School District for many years, as a baker at the elementary and middle schools.
Gean is survived by her husband, Bryson Nebeker, and by her four children, Terri Tyler of Hood River, Sandi (Ron) Leavitt, of Pima, Ariz., Steve (Lori) Nebeker, of Alpharetta, Ga., and Ed (Reina) Nebeker of Overland Park, Kan., and by 15 grandchildren and 19 great-grandchildren, and by her brother Jay Robison of Bountiful, Utah.
She was preceded in death by her parents Jay and Grace Robison.
Funeral services will be held on Saturday, March 11 at 11 a.m. at the Church of Jesus Christ of Latter-Day Saints, 1825 May St., Hood River, with a viewing at 10 a.m. A formal viewing will be held on Friday, March 10 from 6-8 p.m. at Anderson's Tribute Center (Funerals • Receptions • Cremations), 1401 Belmont Ave., Hood River.
Visit www. AndersonsTributeCenter.com to leave a note of condolence for the family.

Services for Clara Gean Robison Nebeker
March 10, 2017

Viewing: 6 p.m. to 8 p.m.
Anderson's Tribute Center

March 11, 2017

Funeral: 11 a.m.
Church of Jesus Christ of Latter-Day Saints, 1825 May St., Hood River