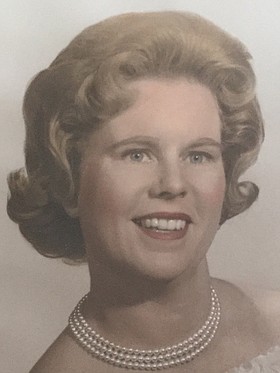 Helen Evelyn Osterberg McFarland
Hood River, Ore.
September 27, 1926 - February 22, 2017
"Stick to the right and you will never go wrong."
A Hood River resident in her last years, Helen Evelyn Osterberg McFarland was born in Pasadena, Calif., on Sept. 27, 1926, the only child of her loving, Swedish immigrant parents, Thure and Annette Osterberg. She passed away peacefully at her home in Hood River on Feb. 22, 2017, in the care of family and dear friends. She was 90 years old.
A devout Christian Scientist, Helen relied on prayer for healing and attended Christian Science Sunday School since age 5. Her entire adult life she served her church as a church reader, Sunday school teacher and superintendent, and an active member of the church board. She even read Christian Science services to inmates in the Chino, Calif., prison. Helen was a lifelong learner who valued education and enjoyed a long career as a respected elementary school teacher. Helen earned a Bachelor's Degree in Education at UC Santa Barbara in 1950, and during her 38-year career, she earned a Master's degree in education, an administrative credential, and a reading specialist endorsement. She developed an excellent reputation, and parents would request Helen as their child's teacher. She was dynamic, inclusive, and loving.
Helen married Donald Uhler in 1951 and during their 15-year marriage, they raised two children, Kurt and Kristen. In 1968, she moved to Newport Beach, Calif., and married Robert Stuart McFarland. They raised a second daughter, Joy. Family meant everything to Helen. She was loving, generous, hardworking and lived with integrity. And although she loved living in Newport Beach, in her later years she would live in Hood River and Boise because being close to her children and grandchildren was her highest priority.
Helen has left a huge legacy and will be sorely missed by her family. She is survived by her loving husband Robert Stuart McFarland, Corona del Mar, Calif., son Kurt Uhler, Baja, Mexico, daughter Kristen Uhler, Hood River, daughter Joy Doelman, Glencoe, Ill., stepsons Robert and Steve McFarland, and her six grandchildren, Lauren Munk, Kurt Uhler, Melissa Hickerson, Jennifer Uhler, Elle Doelman, Kate Doelman, and one great grandson, Damien Munk.
Helen's family would like to express their gratitude for Helen's wonderful caregivers, Jessy Adams, Billie Huizar, and Adriana Starwing, and also for Providence Home Health Care and Providence Hospice of the Gorge.