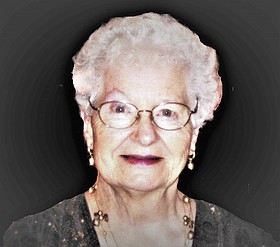 Norma "Jean" Dunham Allison
October 7, 1934 - March 3, 2017
Norma "Jean" (Dunham) Allison, 82, of Longview, Wash., passed away at home March 3, 2017. Her final days were spent surrounded by her family.
She was born in St. Joseph, Mo., to the late Harold and Verla (Gray) Dunham on Oct. 7, 1934, and graduated from Central High School, class of 1953.
She married Benjamin Allison, Jr., in 1953 in St. Joseph. He preceded her in death after 51 years of marriage on Oct. 30, 2004. She was also preceded in death by her sister, Shirley.
She is survived by Linda (Bill) Fashing, Vernon Allison (Britte Landess) and Harold Allison; her sisters Margaret Dunham June and Lola Dunham Spaeth; her six grandchildren, Mary Tripp, Allison Fashing, Jeremy (Regina) Allison, Josh Allison, Aaron Allison, and Andrea Allison; several great grandchildren; and an uncle, nieces, nephews, cousins, and dear friends.
She worked for Noma Lights, JC Penney and retired from Montgomery Wards in 1994. She enjoyed bowling, camping, traveling and time with family and friends. Jean enjoyed being camp host with her husband, traveling throughout the U.S. She went on cruises with her husband and friends and traveled to Europe with friends in recent years.
She will be deeply missed by her family and friends.