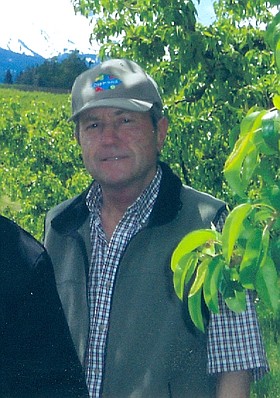 Mark Allen Gray
Hood River, Ore.
August 2, 1948 - March 10, 2017
Mark Allen Gray passed way in Portland, Ore., on Friday, March 10, 2017, from complications following emergency open heart surgery. He was 68 years old.
Mark was born in Hood River on Aug. 2, 1948, to Anne Ruth Brookshier Gray and Clyde O. (Buzz) Gray. He attended Parkdale primary and elementary schools and graduated from Wy'east High School in 1966.
During his young adult years, Mark operated a lift truck for Diamond Fruit Growers and drove log truck for his brother's company, John Gray Trucking. In the early 1970s, he switched from hauling logs to harvesting them for Parkdale Lumber Company. While with Parkdale Lumber, he began hauling heavy equipment for other logging companies and farmers as well and was usually loaded with fire suppression equipment and on call during fire season. He hauled Engle & DeHart's steam tractor to the Dufur Threshing Bee and to other parades throughout Oregon for several years. You could always find him in his truck, "The Green Turtle," hauling equipment and later pears from his orchard. He and his dad, Buzz, came to the rescue of many neighbors and businesses plowing deep snow using two skidders left over from their logging days.
In November 1969, Mark married Linda Fischer of Parkdale. They were inseparable. Together they hauled equipment and farmed Mark's family pear orchard. Through the years, they added acreage and became full time orchardists. In 1975, they welcomed their daughter, Jennifer Louise.
Mark loved going to Reno. He usually planned a trip for fall after harvest was finished. He would count the days, saying that the anticipation was almost as fun as actually going. He enjoyed family camping trips, boating, motorcycle riding, classic cars, and working in his orchard. He was a gifted mechanic always fixing his own equipment. He had a tender heart for animals, building feeders for the ducks and quail around the property even though they attracted birds that ate his cherries. He loved history, especially local history, and was a board member at Hutson Museum in Parkdale.
Mark is survived by Linda, his wife of 47 years, daughter Jennifer Gray, and his beloved labs Fletch and Belle. He will be sorely missed.
Mark was preceded in death by his parents, Anne Ruth and Clyde (Buzz) Gray, his brother John Gray, and his Father-in-law, Vernon Fischer, Sr.
Viewings will be held Friday, March 17 from 6-8 p.m. and Saturday, March 18 from 9:30-11:30 a.m. at Anderson's Tribute Center.
A memorial service with reception following will be held Saturday, March 18 at 11:30 a.m. at Anderson's Tribute Center. A graveside service will follow at Parkdale Cemetery.
Memorials in his honor may be donated to the Hutson Museum and the Parkdale Fire Department.
Arrangements are under the direction of Anderson's Tribute Center, 1401 Belmont Ave., Hood River. Visit www.AndersonsTributeCenter.com to leave a note of condolence for the family.
Services for Mark Allen Gray
March 17, 2017

Viewing: 6 p.m. to 8 p.m.
Anderson's Tribute Center

March 18, 2017

Viewing: 9:30 a.m. to 11:30 a.m.
Anderson's Tribute Center
Memorial service: 11:30 a.m.
Anderson's Tribute Center