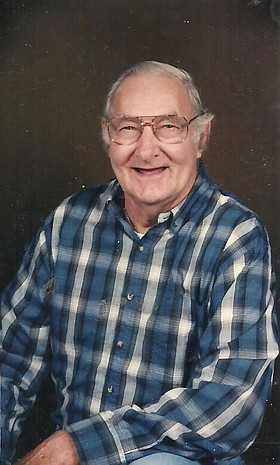 Merle H. Mau
Cascade Locks, Ore.
October 23, 1921 - March 5, 2017
Merle H. Mau, 95, of Cascade Locks, Ore., passed away peacefully on Sunday, March 5, 2017. Merle was born Oct. 23, 1921, the son of the late Herman and Myrtle Mau. He is survived by his spouse, Phyllis Mau, and his four sons, Richard Mau (Theresa) of Lexington, Ill., Merle Frank Mau (Kathy) of Wilmington, Ill., Herbert Mau of Frankfort, Ind., and Donald Mau of Colorado Springs, Colo., one daughter, Lonas Jane Hollingsworth (Calvin) of Orlando, Fla., and his adopted family, Richard and Cheryl Randall of Cascade Locks. Merle was preceded in death by his firstborn, Grace E. Lane Anderson. He is survived by 23 grandchildren, 27 great grandchildren, two great great grandchildren, 10 nieces and seven nephews.
Merle was one of six children: Gertrude, Dorothy, Evelyn, William and Howard. Merle was preceded in death by Gertrude, Evelyn and William. Merle spent most of his youth on his father's family farm until financial hardship forced his family to move into Bloomington, Ill.
He was inducted into the U.S. Army on Sept. 3, 1942. From May 1943 through June 1945, his unit, an anti-tank company of the 17th Infantry, fought in six separate battles until Merle was wounded in Okinawa, Japan. He spent a few months recovering until his disability discharge in October 1945. His awards included the combat infantry badge, M-1 rifle qualifying badge, pistol qualifying badge, first class gunner, 37 MM gun lapel button and patch, Asiatic-Pacific Theater ribbon with four Battle Stars, Philippine Liberation ribbon with two Bronze Stars, and the Purple Heart for wounds received in battle.
After his stint in the service, Merle settled down and began his family — an extremely large one at that. He had four boys and two girls of his own and was stepfather to three boys and three girls. He never tired.
Merle was also an avid bowler with many trophies crediting him with a perfect game/series, an enormous feat. His bowling ball was designed and fitted just for him — it had four holes, an adjustment made to accommodate his missing finger shot off by a Japanese Zero.
He put in numerous hours farming while working at the American Foundry in Bloomington before moving to the job he would hold until retirement, at Triangle Auto. While residing in Bloomington, Merle was a member of the VFW honor guard and the Moose lodge.
Merle married Phyllis in 1976. After retirement, he moved to Cascade Locks with the love of his life, and started a whole new life with Phyllis. He spent many months restoring and remodeling the house that was left to Phyllis by Phyllis's father, Elmer Parker. Merle also enjoyed making wooden toys. Nothing made him happier than loading up the camper and heading out on a new adventure. He and Phyllis loved camping and made friends wherever they stopped.
It was in Cascade Locks that he discovered the Lord and his days that followed were full of sunshine. Among Merle's greatest accomplishments was his relationship with the Lord Jesus Christ and his church family. Merle became a member of the Cascade Locks Bible Fellowship Church in 1986 and was a member for 31 years until his passing.
A memorial service will be held at 2 p.m. on Saturday, March 18, at Cascade Locks Bible Fellowship, 550 Forest Lane, Cascade Locks.
Family and friends are welcome to bring their favorite dish for the potluck following immediately after the memorial service.
Services for Merle H. Mau
March 18, 2017

Memorial service: 2 p.m.
Cascade Locks Bible Fellowship, 550 Forest Lane, Cascade Locks