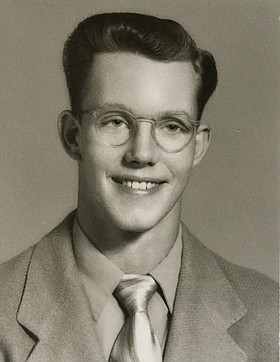 Edgar Llewellyn Johnsen
Salem, Ore.
April 1, 1932 - December 23, 2016
How fitting that Edgar Llewellyn Johnsen, a man with a great sense of humor, was born on April 1, 1932, the younger of two sons born to Luella Mae (Nielsen) and Arthur Clarence Johnsen. Growing up in Hood River, Ore., offered a great time exploring Mount Hood, the Gorge and fun trips into the big city of Portland, Ore. Known as the class jokester, Ed enjoyed sports, including football and especially golfing with his mother whom he loved dearly, riding his scooter too fast and flirting and square dancing with cute girls.
Despite these facts, he graduated from Hood River High School in 1950, earning good grades and lettering in football and golf. Hoping to strike it rich, Ed briefly attended the Colorado School of Mines, where he struck "liquid gold" at the nearby Coors Brewery. This inevitably led him to try home brewing 60 years before it became cool. He, of course, made the best beer ever, while blowing up a few bottles in the basement. Alas, none of his recipes were recoverable.
Ed went on to graduate from Oregon State College with a BS degree (no pun intended), and started his career at the Oregon State Highway Department as a geologist. This was the same man who lugged a 50-pound geode in his old canvas backpack through woods and countryside on a geology field trip. Rocks turned out to be more interesting and valuable than precious metals.
His work journey took him from St. Helens, Ore., to Portland and finally to Salem, Ore., where he settled for over 50 years. Passing the engineering exams and earning a Master of Business at Willamette University were key mileSTONES as he made his way to the top of the highway division, in charge of building many new roads in the state of Oregon.
Ed's true passion and love was for his children. He had unending enthusiasm for family trips to Lost Lake where fishing, hiking and extravagant camp cooking took place. Some of these children look back and remember barely surviving 15 mile marches through the woods without food and water; others smile and shake their heads when they think of the questionable mushrooms in the onion, potato and fish fry. One thing everyone could agree on was his tasty huckleberry pancakes.
Ed enjoyed cooking and baking, perfecting many recipes over the years, most notably his bread and apple pie recipes. After all, who wouldn't want to keep testing the apple pie with a mound of ice cream?
No one could deny Ed's generosity, giving to those in need, whether a material possession or giving advice and being a great listener. He was smart and a smart ass at times. He will be remembered as a most sweet, compassionate man and the best dad ever by the people close to him. Ed passed peacefully at Salem Health Hospital late on Dec. 23, 2016, with family by his side.
Ed was preceded in death by daughters Julie Geibel in December 1980 and Jamie Lee Haubner in March 2012, son David Johnsen in January 2005, his older brother Albert C. Johnsen in December 2013, and geology buddy Lloyd Wolfe.
He is survived by his children, Christine "Tina" Dypold (Kirkland, Wash.), Dan Johnsen and his wife Peggy (Albany, Ore.), Mikkel Johnsen and fiancée Jackie Brons (Salem), and son-in-law Allen Geibel (Salem). Grandchildren include Anna Bailey and her husband Jeremy (Kirkland), Carrie Geibel (Salem), and Valerie Johnsen (Ore.), and two great-grandchildren, Maya Bailey (Kirkland) and Aiden Geibel (Salem). Four nieces cherish his memory — in California, Janet J. Brown, Rebecca L. Johnsen, and Joanne J. Riske, and in Arizona, Gretchen L. Clark.